How to bring colour and pattern into a traditional bathroom
Bringing colour and pattern into a traditional bathroom has never been easier with our Bespoke by Burlington collection, designed in collaboration with leading British illustrator and textile designer, Julie Ingham. Representing an exciting new era of classic bathroom design and a new twist for Burlington, the collection of coloured and hand-decorated ceramics allows you to create truly bespoke traditional bathroom, suited to your individual tastes and design choices.
There are a number of ways to incorporate these eye-catching ceramics into your bathroom. From beautifully floral designs perfect for bright, bold and fun interiors, to coloured ceramics ideal for adding a touch of personality, the Bespoke by Burlington collection offers plenty of opportunity for creativity with pattern and colour in the traditional bathroom.
The Colours Collection
To create an inspirational bathroom packed with pops of colour, opt for The Colours Collection for a playful twist on traditional ceramics. Available across our Edwardian basins, pedestals and a selection of WCs, choose from Confetti Pink, Alaska Blue or Moon Grey. Pair with complementing bold wallpaper in the same hue, or opt for contrasting painted walls to create a traditional bathroom with a modern edge. For an eclectic look, select contrasting accessories, such as black WC seats and tumbler holders for added depth and difference.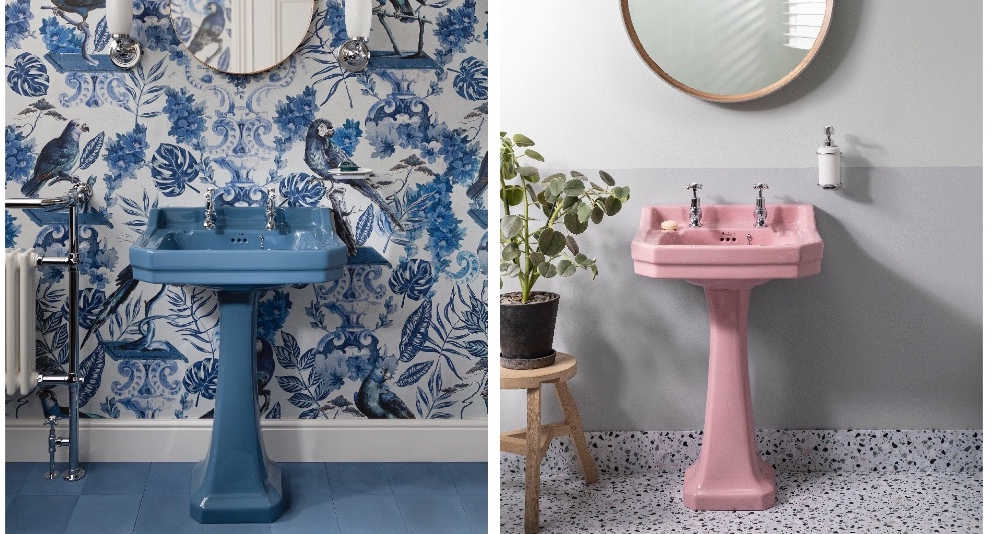 Art Deco
If you love vintage inspired interiors, then the Art Deco range is perfect for you. Characterised by the unmistakable shapes and colours synonymous with the 1920s and 1930s style, there are three striking designs available to choose between. From the fan-like shape of the Charleston pattern and the vibrant appearance of Vienna, to the linear lines of Martinez, add an eye-catching focal point to your traditional Edwardian basin with an Art Deco statement. Designed to work in any setting from residential bathrooms to hotel master suites, these inspirational illustrations are guaranteed to add a touch of uniqueness to any bathing space. Top tip: Select a colour used within the art deco motif on your basin to form the base colour of your bathroom palette. Paint half your wall in this shade and incorporate hints within your floor to create a harmonious look. For added depth combine the basin with linear textures for the perfect art deco style interior.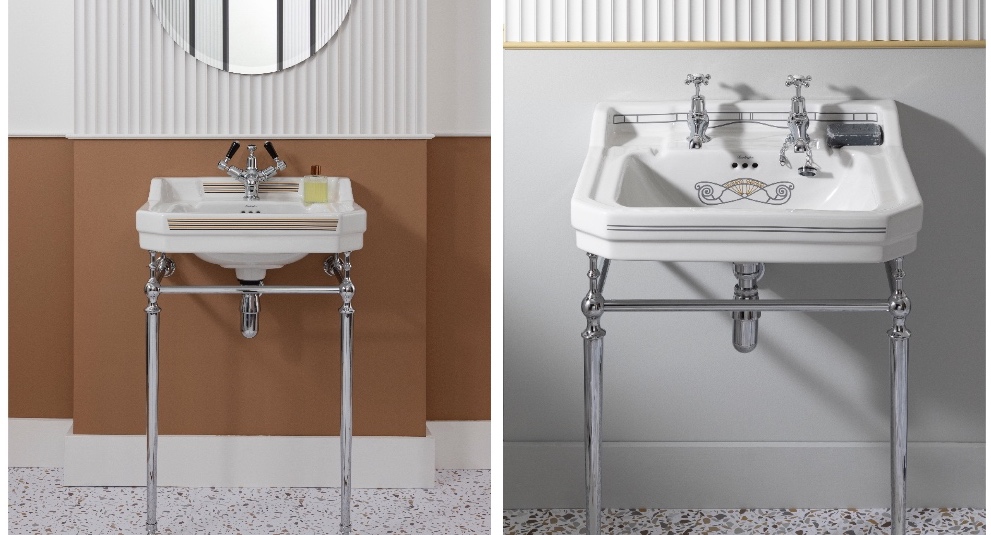 Floral
Create a botanical bathroom scheme with the Floral collection available in a selection of our Edwardian basins, pedestals and WCs. Choose from the bold and vibrant Botanical Pink and Oriental Blossom to the delicate charm of Country Meadow and Spring Forest, each beautifully hand-drawn design will add a touch of character to your bathroom interior. Combine with complementing shades of sumptuous blush pinks or elegant green panelling to create a bathing space you can truly relax in. For a more sophisticated look, pair with a neutral interior to ensure your bespoke piece stands proud.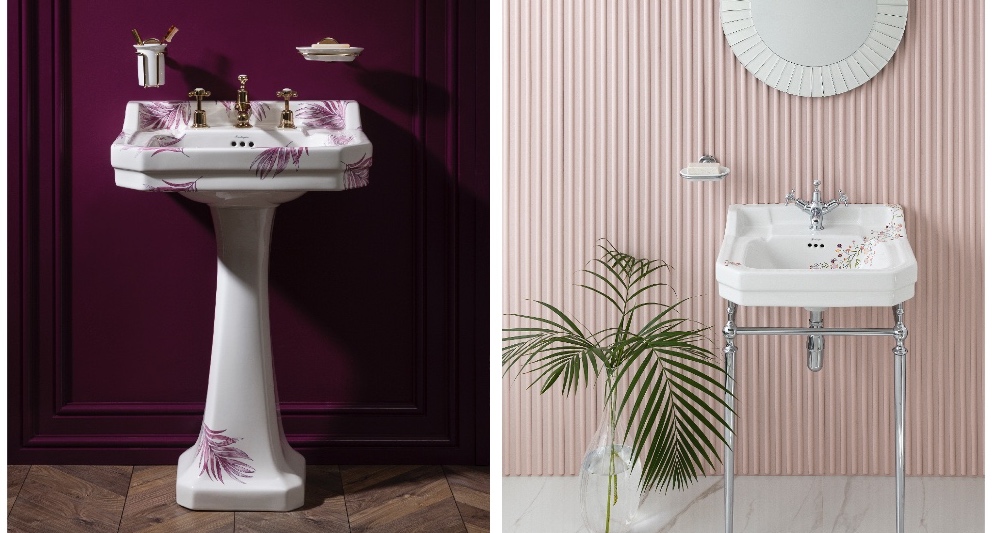 Favourite Places
For a touch of nostalgia, select an intricate graphic illustration from the Favourite Places range. Presented in the form of the monochrome Cityscape and nautical Seascape patterns, the collection of basins will add a hint of culture to your traditional bathroom. Whether you live in a city or by the sea, there's a basin to match your location. Ideal for beachside retreats, pair the Seascape design with pebbles, white wash floorboards, crisp linens and nautical blues for a Hamptons bathroom feel. For city dwellings, opt for a more urban appeal and combine with contemporary accessories for a chic modern style.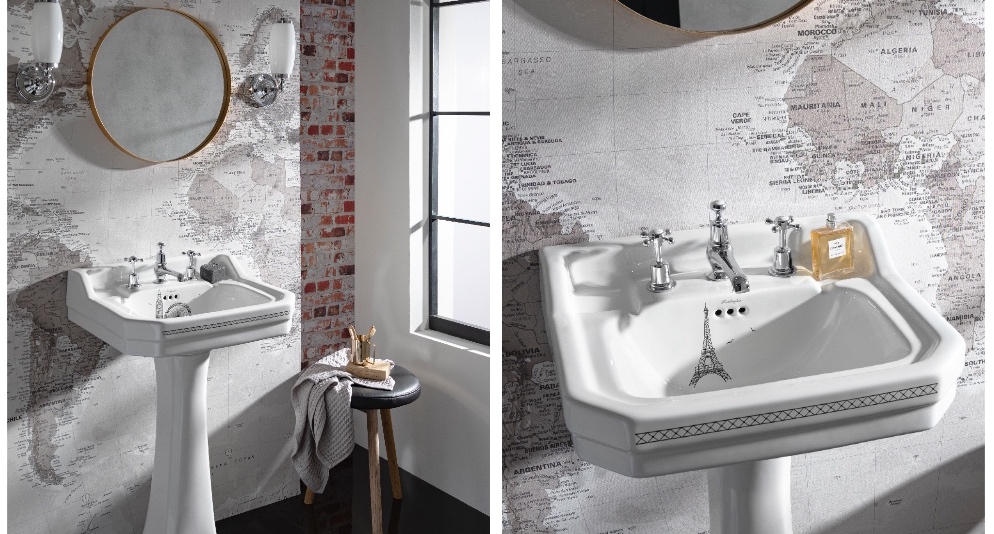 Bespoke Lettering
Offering new levels of customisation, the Bespoke Lettering collection provides the ultimate opportunity for personalised bathroom design. Choose from three different typefaces, in two places on the basin, either across the front edge or for a subtler option, under the overflow, across selected sizes in the Edwardian basin collection. From grand estates to cosy cottages, there's the perfect font to suit the style of your home.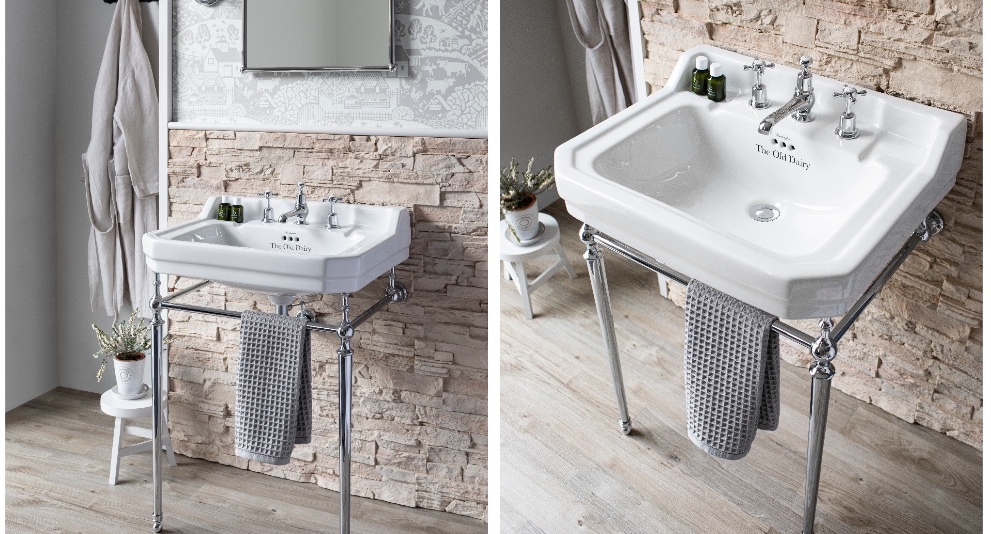 We hope we've given you plenty of bathroom ideas with our Bespoke by Burlington collection. You can check out the full collection here.
Get creative and combine traditional style with a contemporary approach to create your very own personalised bathroom with the wow factor.

Related products