Personalise your Modern Traditional Bathroom
15 February 2021
Abi Hardiman
As modern traditional bathrooms continue to grow in popularity, homeowners are looking to create a space that offers a modern classic bathroom design combined with everyday practicality. As this trend increases, so too does the demand for personalised bathroom design to reflect self in the home. Whether it be through bold colours, or unique bathroom decor, homeowners are transforming their interiors with an added personal touch.
Staying ahead of emerging trends, Burlington has effortlessly blended tradition with unique design to create options that are perfect for distinctive and timeless modern traditional bathrooms. From a daring injection of colour, to more intricate customisation, achieving a space special to you for ultimate relaxation has never been easier with Bespoke by Burlington.

Colour Creativity
Simple and effective, colour is a great way to capture personality in your space without having to remodel an entire bathroom. With colours prompting different emotional responses, consider what you predominantly use your bathroom for and what kind of feelings relate to this. Do you have indulgent soaks after a long day to unwind? The soothing colour of our Moon Grey could inspire feelings of contentment. Or perhaps you use the bathroom for a sense of everyday escapism? The ocean-like shade of Alaska Blue could create a space of serenity and relaxation.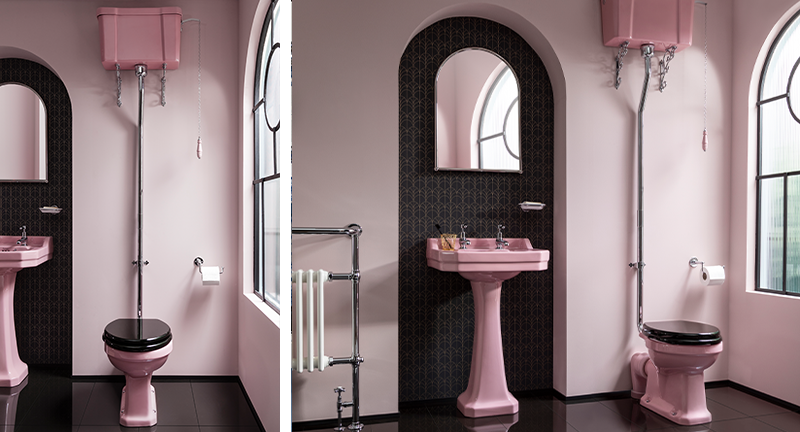 Alternatively, Confetti Pink offers something completely different - bringing striking colour to the heart of the bathroom, this colour exudes feelings of positivity and awakening. With the ability to effortlessly enhance the classic details of the Edwardian Basin with Full Pedestal, Confetti Pink colour brings a contemporary twist to periodic design. Using traditional brassware to tie the scheme together, Chrome Claremont Basin Taps, alongside the Confetti Pink Edwardian Basin enlivens the modern traditional bathroom design for a distinctive aesthetic with a personal touch. For a more intense mixture of modern classic bathroom design, pair Confetti Pink Edwardian Basin with Confetti Pink High Level WC for a cohesive and impressive design statement.

All About You
For a modern traditional bathroom look taking personalisation to the fullest, our Lettering range as part of Bespoke by Burlington is the ideal option. Whether it's customised with the name you like to call your stay-at-home retreat, or even your family name, our Lettering range couldn't be more personal. Available in a number of Edwardian basin styles, including Cloakroom, Standard Pedestal and Semi-Inset, you can choose from traditional, modern or script fonts to best suit your bathroom scheme.