Guest Blog: Bringing Back Traditional Bathrooms with a 21st Century Take
19 August 2020

My Tiny Estate is delighted to be working with Burlington on one of our bathrooms in The Caretakers Cottage. We were fortunate enough to be given a sneak preview into their new Bespoke by Burlington collection and were blown away by the new twist on traditional ceramics.
I remember growing up how my mum used to tell me how much she loved going to her grandparents house as they had the most beautiful WC adorned with a unique floral pattern, which used to fascinate me. I'd not seen one like that until few years ago when I was looking to buy an old Victorian house and there it was – not one, but three traditional vintage bathrooms - I loved them! One had flowers on and the others unusual in colour - I was totally wowed. It was an open day, so there were many people looking to buy the house, lots were developers, and everyone mentioned that the first thing they would do was to rip the bathrooms apart - I was shocked!
I didn't get that house and I am sure those bathrooms were changed to modern ones but it got me thinking, I was sure that the traditional bathrooms would comeback into popularity and as Burlington Bathrooms launched their Bespoke by Burlington range, I knew I was right!
From pretty florals to bold colours, the new range from Burlington offers endless choice. When paired well with the right tiles, colours or wallpapers, you can easily make a traditional bathroom look vibrant and modern - like it's out of the pages of a magazine!
I am going to show you how I would style two products from the new Bespoke by Burlington range, specifically the Floral Collection and the Colours Collection.
Let's start with the floral designs, as this was my obsession for so long…
When using a floral design you should use one of the colours from the flowers or foliage within the decoration of the bathroom. By doing this you will tie the whole scheme together. Being a fan of panelling, when I saw this image from the Floral Collection I thought that it was the perfect example of how to incorporate the ceramic in your home! The green painted woodwork ties the design in seamlessly – genius!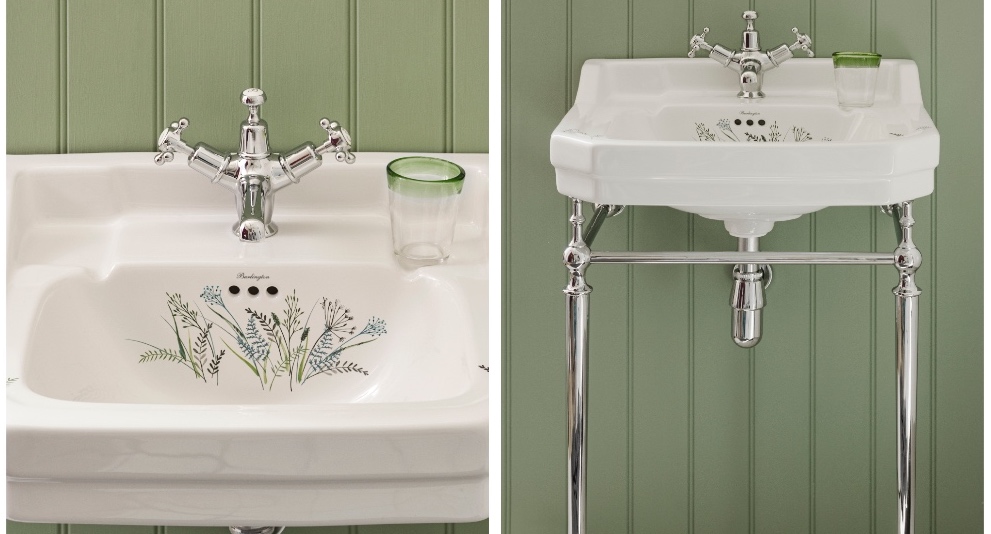 However when I saw the Oriental Blossom design I had one of those moments of happiness and thought that must have been exactly what my mum felt every time she used to go to her grandparents – it's just so mesmerising!
The delicate details of the flowers, together with the variety of colours gives homeowners and designers a wide variety of options on how to style it. From adding colour to the walls, to adding more traditional natural tones, the details of the flowers add interest to any space.
Here is the perfect example how the same design can be interpreted in two completely different ways.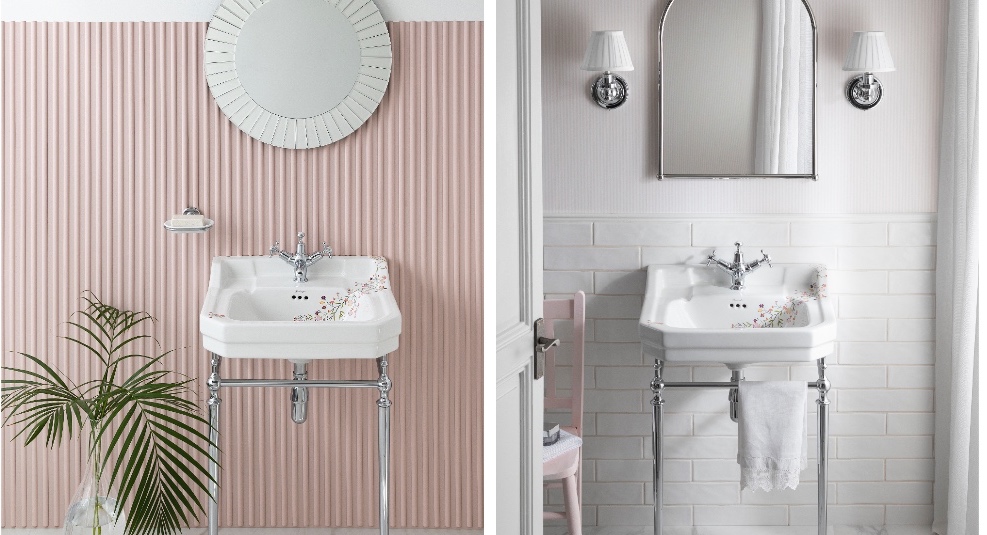 There is also another option from the Bespoke by Burlington Collection for those not afraid to go all out! If you want to make a statement, and 'wow' every single person that walks into the bathroom, The Colours Collection is the answer.
The days of being subtle are gone, now it's all about being different and having personality and this range does just that.
Burlington has launched three stunning new colours; Alaska Blue, Confetti Pink and Moon Grey. I love them all, but I am obsessed with Alaska Blue.
Having that colour on all your sanitaryware and bringing in really bold wallpaper patterns in same tone will instantly create a 'wow' factor that no one will forget.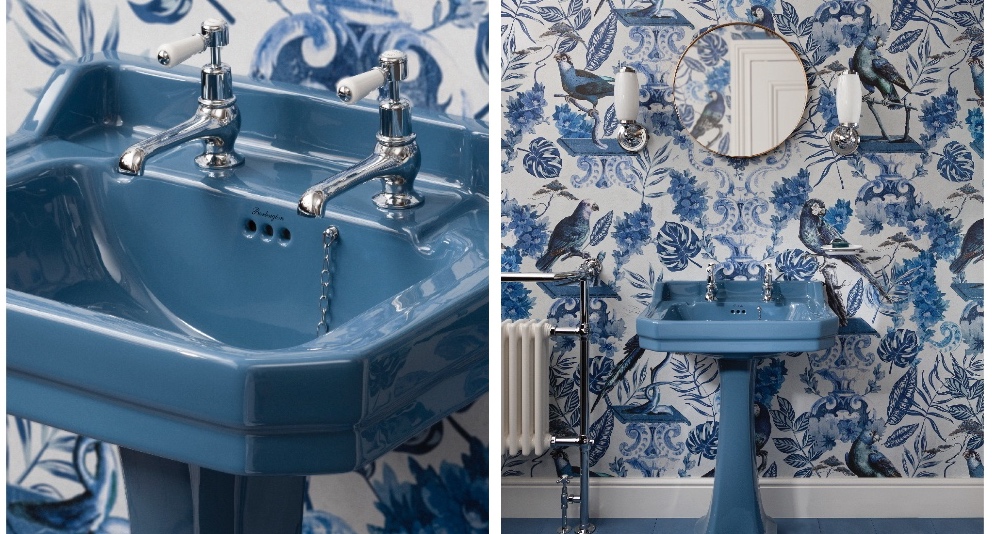 This collection is the perfect mixture between traditional bathrooms with contemporary aesthetics and we feel it works incredibly well.
Find your dream ceramic and get designing! You can check out the full collection here.
Don't forget, you can head over to our Instagram @mytinyestate to follow the progress on our Burlington bathroom and the rest of our renovation journey.