13 September 2023
Katie Wells
5 Shower Ideas for A Modern Traditional Bathroom Design
Are you looking for a modern bathing experience in a traditional bathroom design? Browse our showering inspiration below to boost your luxury bathroom suite to a new level of relaxation.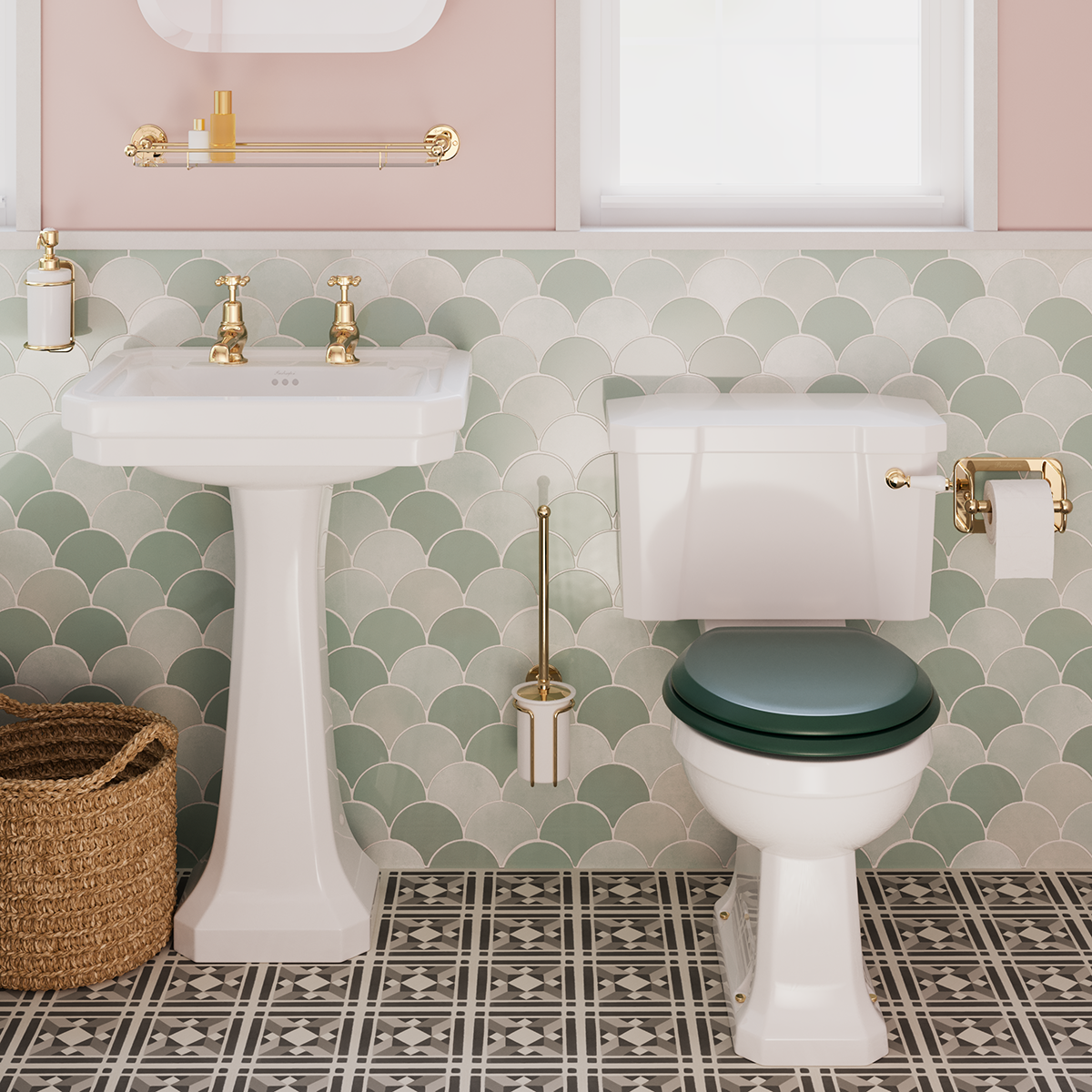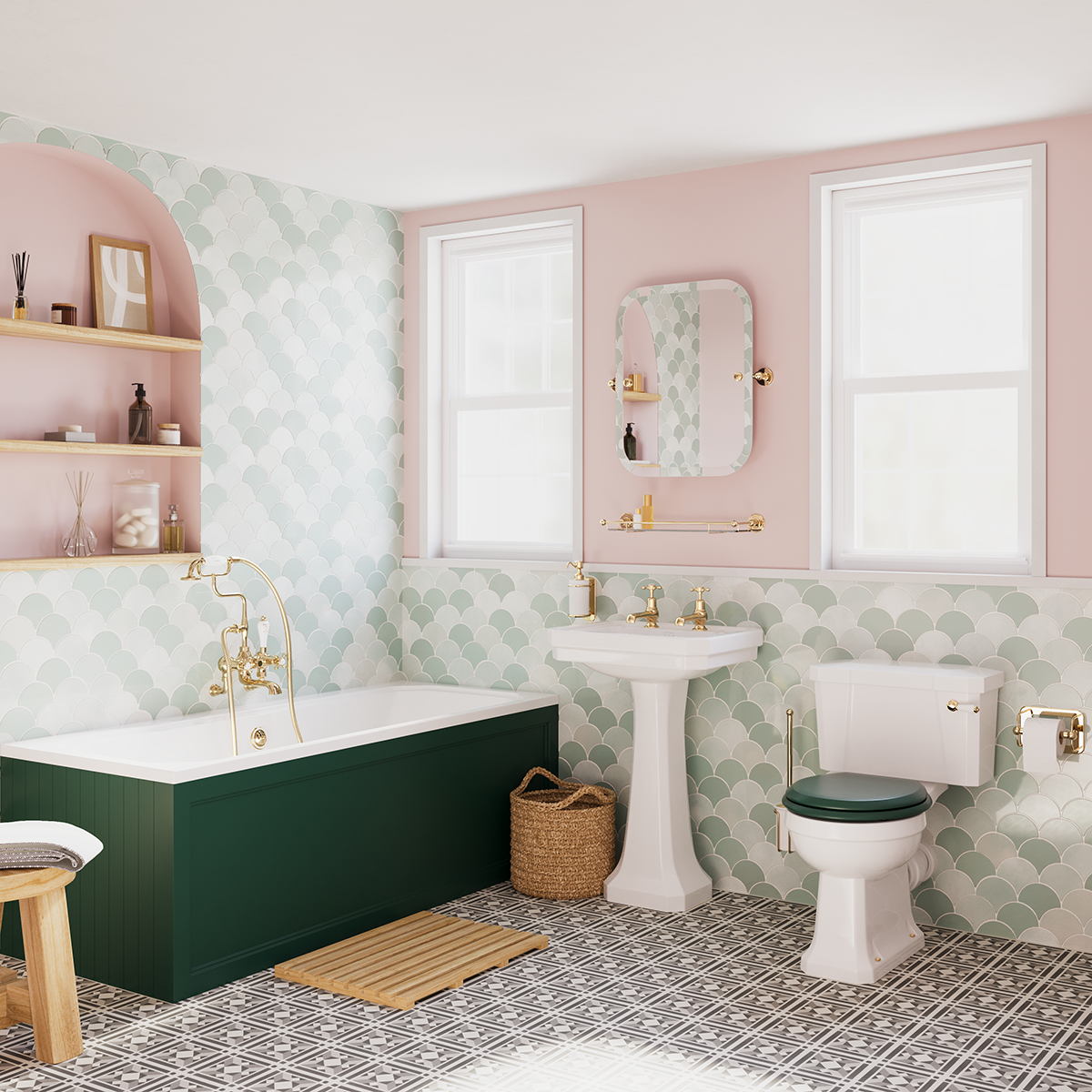 Introducing The Shower into Traditional Design
When you think of a traditional bathroom, it's likely that an elegant bath takes centre stage. For a long time, the bath was a statement of luxury and the essence of relaxation. As times moved on, so did our daily habits, wellness routines and style preferences, paving the way for the shower to take over as an indulgent retreat of revitalisation. That's why so many are incorporating a walk in shower enclosure into their modern traditional bathroom design.
Here's a few ideas to get you on your way to creating the perfect walk in shower:
Subtle Beauty
If you want the beauty of your traditional bathroom design to shine, a subtle recessed shower could be the way to go. In this bathroom design idea, the stunning walk in shower takes a step back and allows the contemporary basin with upstand and traditional radiator to draw the eye.
This minimal shower design includes a hinged deflector to increase ease of entering and exiting the shower enclosure while preventing water from splashing outside of the shower. This design idea uses a Brushed Nickel finish for a bright and fresh design that seamlessly integrates with the rest of the traditional bathroom design.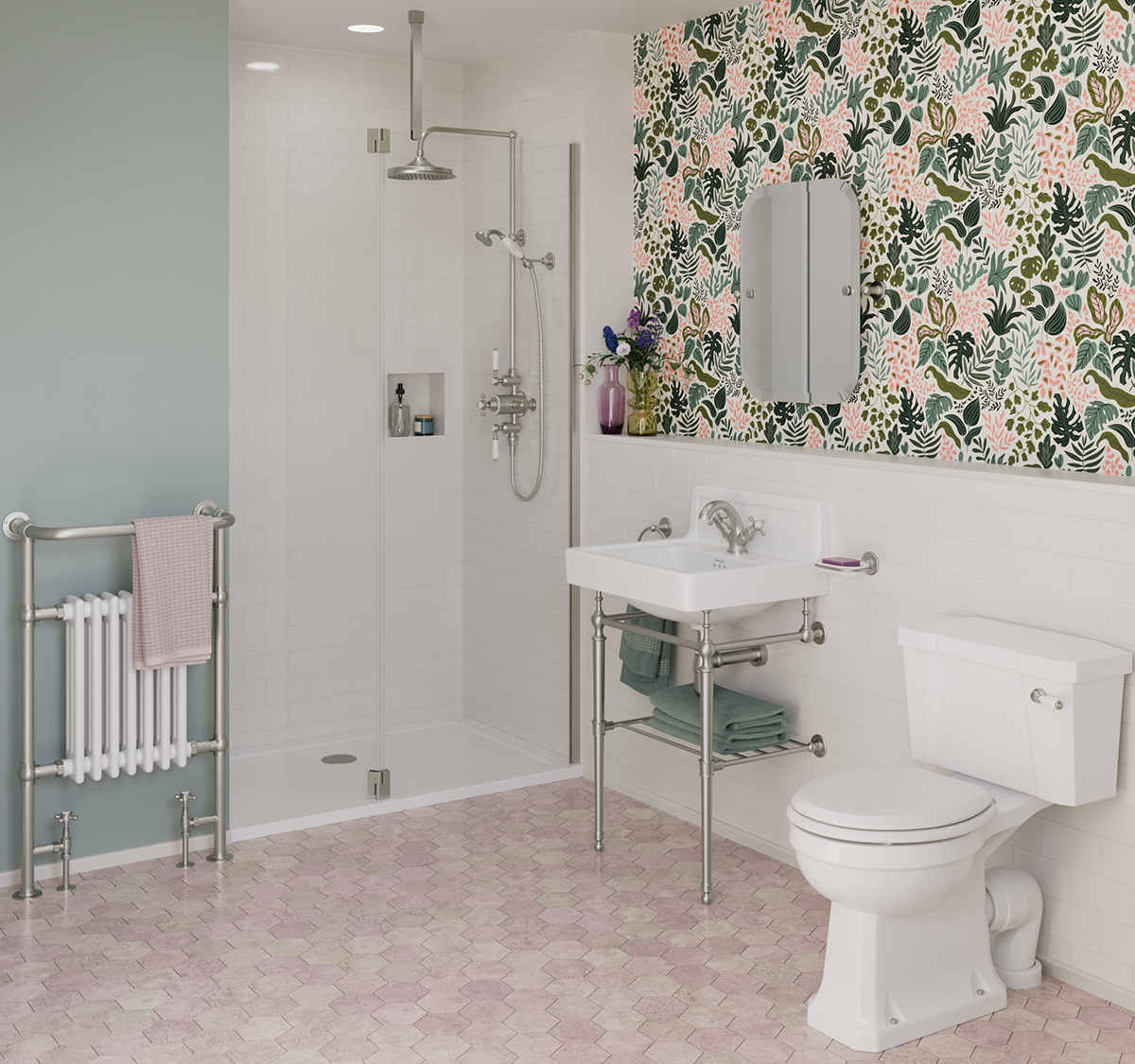 Spacious Corner Design
This spacious corner walk in shower design brings the modern need for open, expansive spaces while remaining in keeping with the traditional bathroom design.
Unusually designed, this configuration for a corner shower unit creates a luxurious bathroom environment through its uniqueness. The open walk in space provides convenience and practicality of use. A T bracing bar has been used to ensure security of the glass panels, while adding an elegant finishing touch.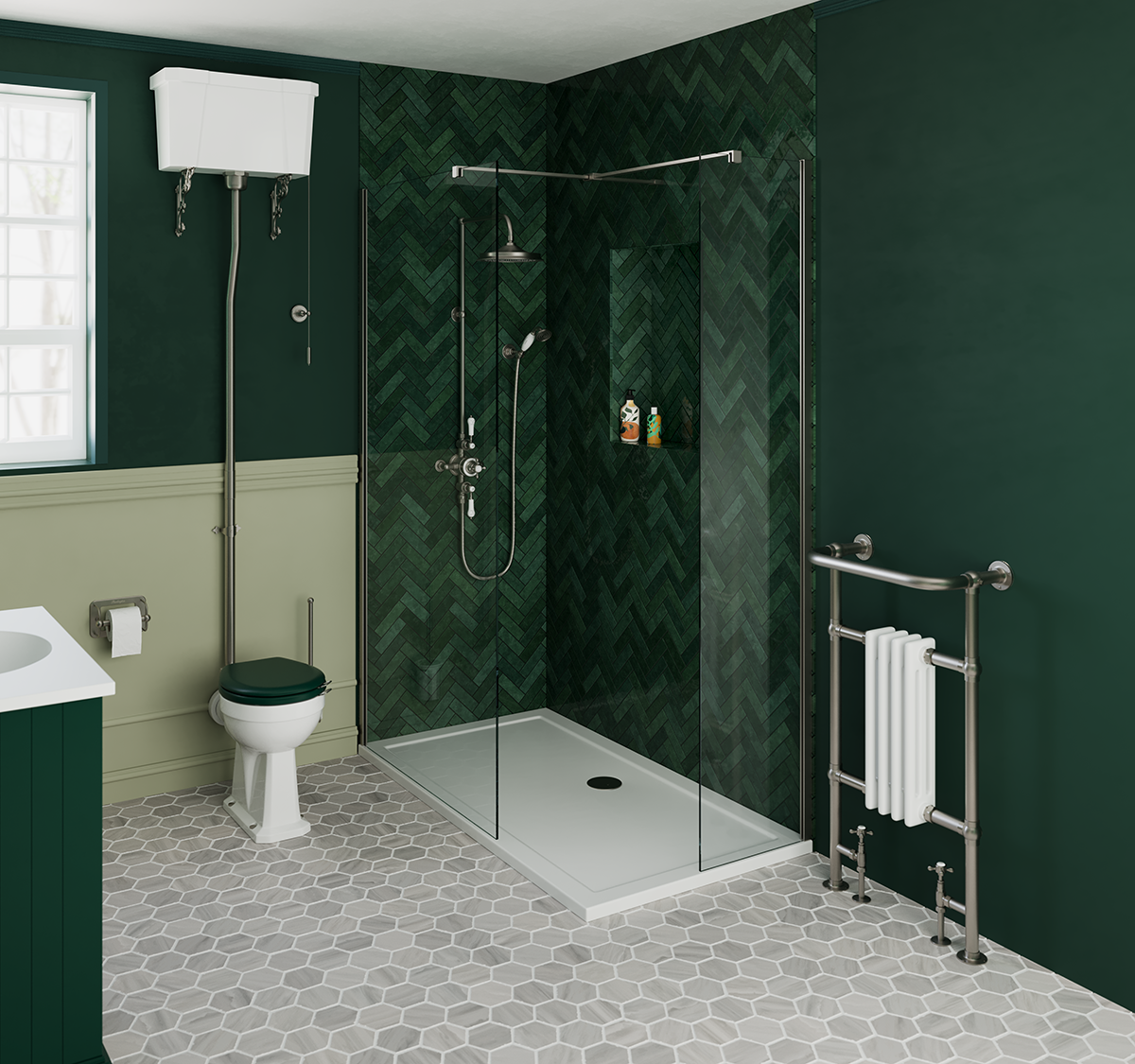 Statement Showers
If you want your luxurious shower to be the statement of your modern traditional bathroom, this design idea could be for you. The minimalist style creates an enticing space that draws attention, made even more potent by the use of Gold finishes across all areas of the enclosure.
Large and spacious, this walk in shower enclosure is the epitome of modern luxury perfectly integrated into an elegant traditional bathroom design. A subtle wall bracing bar neatly completes the design while keeping the glass panel safe and secure. The precise side opening creates a convenient and practical entrance to the shower enclosure.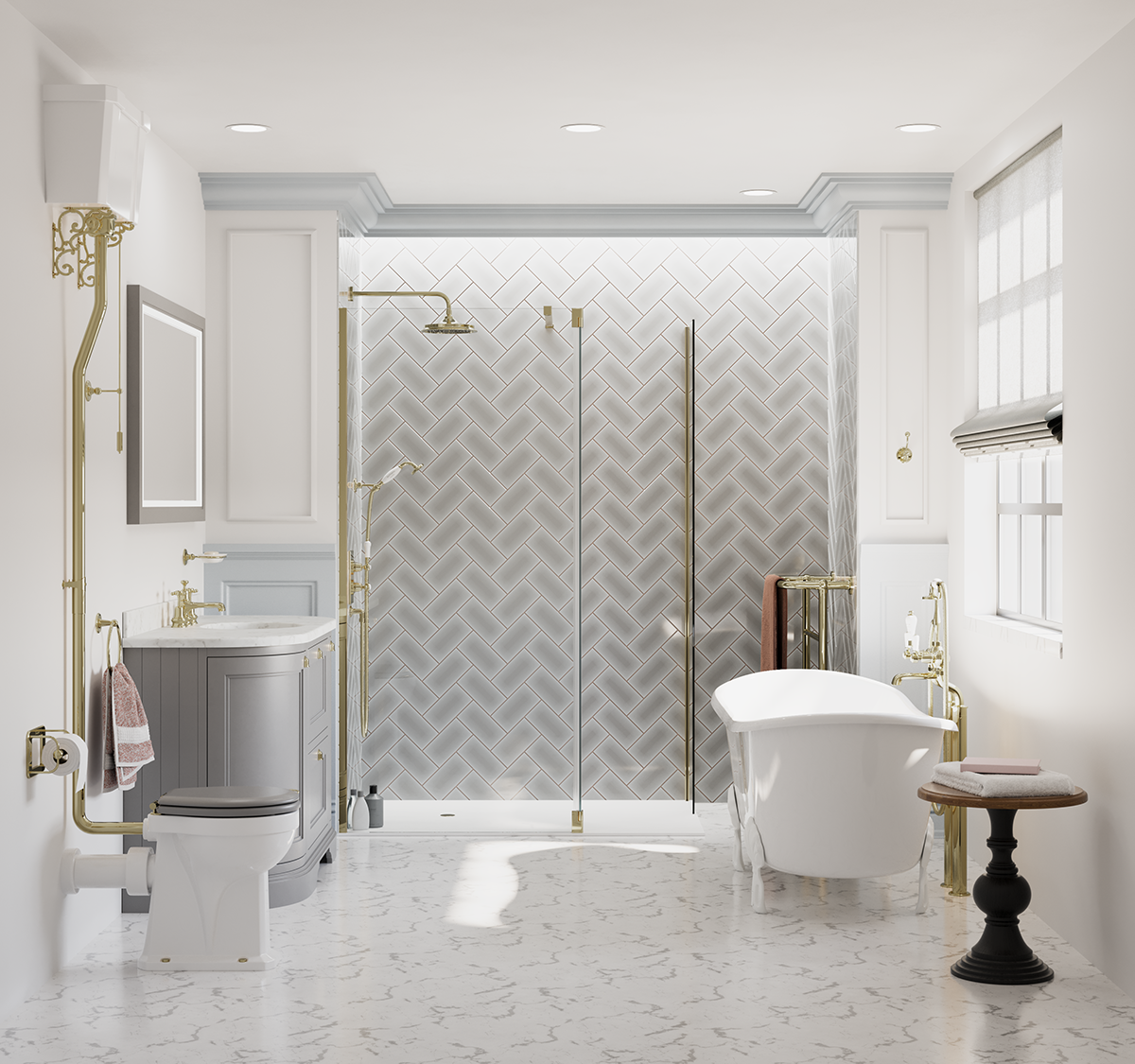 Elegant and Slimline
A crisp, slimline design full of soft curves and straight edges can elevate a bathroom space into a luxurious and elegant design. Take inspiration from this walk in shower to achieve the same feel in your traditional bathroom.
In this modern traditional bathroom design, a minimalist approach has been taken to let the luxurious shimmer of a Gold finish shine and elevate the bathroom to a place of opulence. A single wall bracing bar has been used to create a refined look while providing structural security for the glass enclosure. This shower configuration includes a hinged deflector panel on the opening to provide ease of entry and keep the bathroom free from water splashes.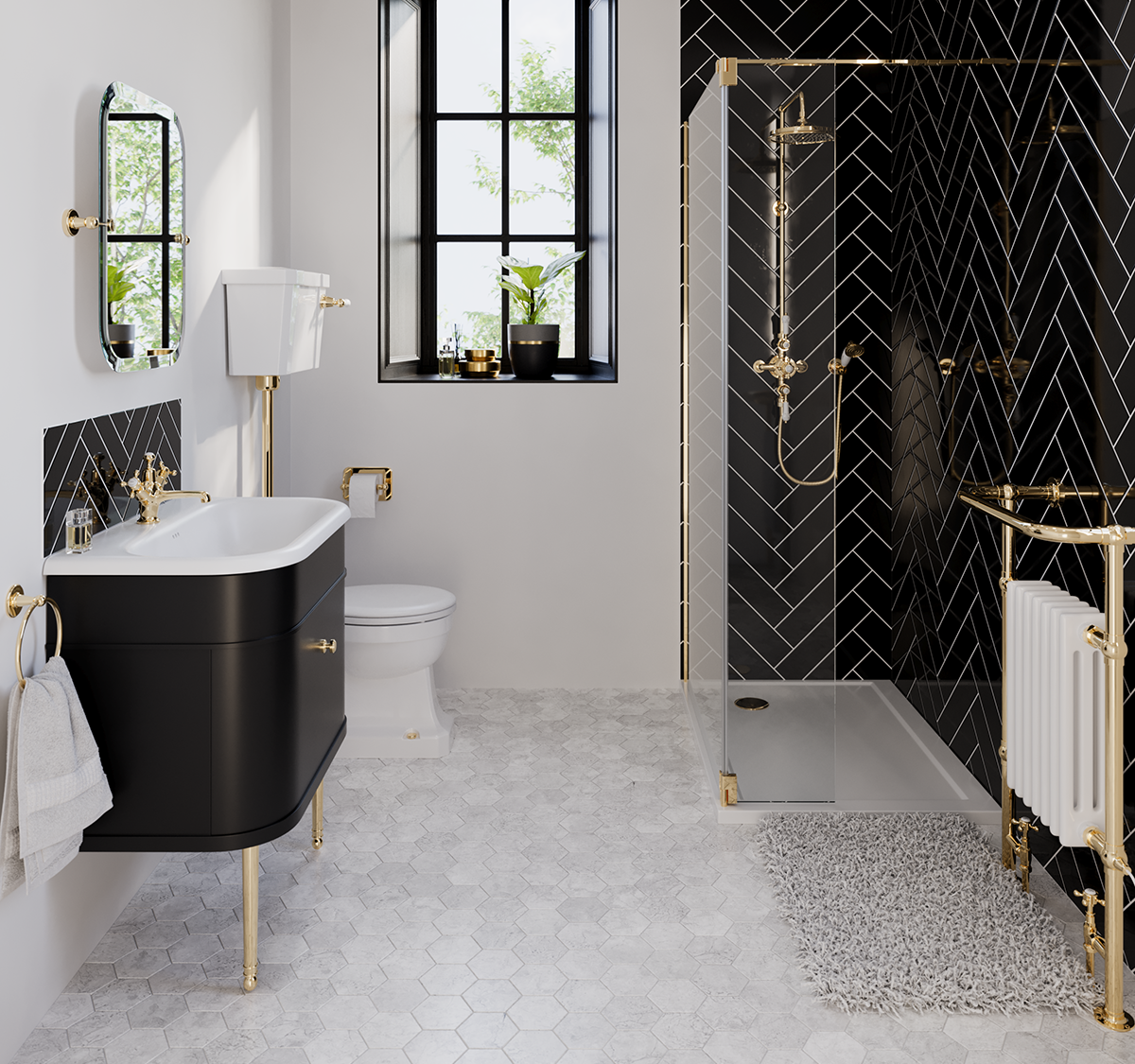 Sticking To Tradition
If a more traditional, rustic approach is your style, opt for a combined shower and bath solution. This way you can achieve a classic bathroom layout while embracing modern shower functionality. An 8mm bath screen with toughened safety glass provides both privacy and practicality in your bathing experience, keeping the bathroom free from water splashes.
This design uses a combined shower head and bath tap set for a traditional style that perfectly coordinated with the rest of the luxury bathroom suite.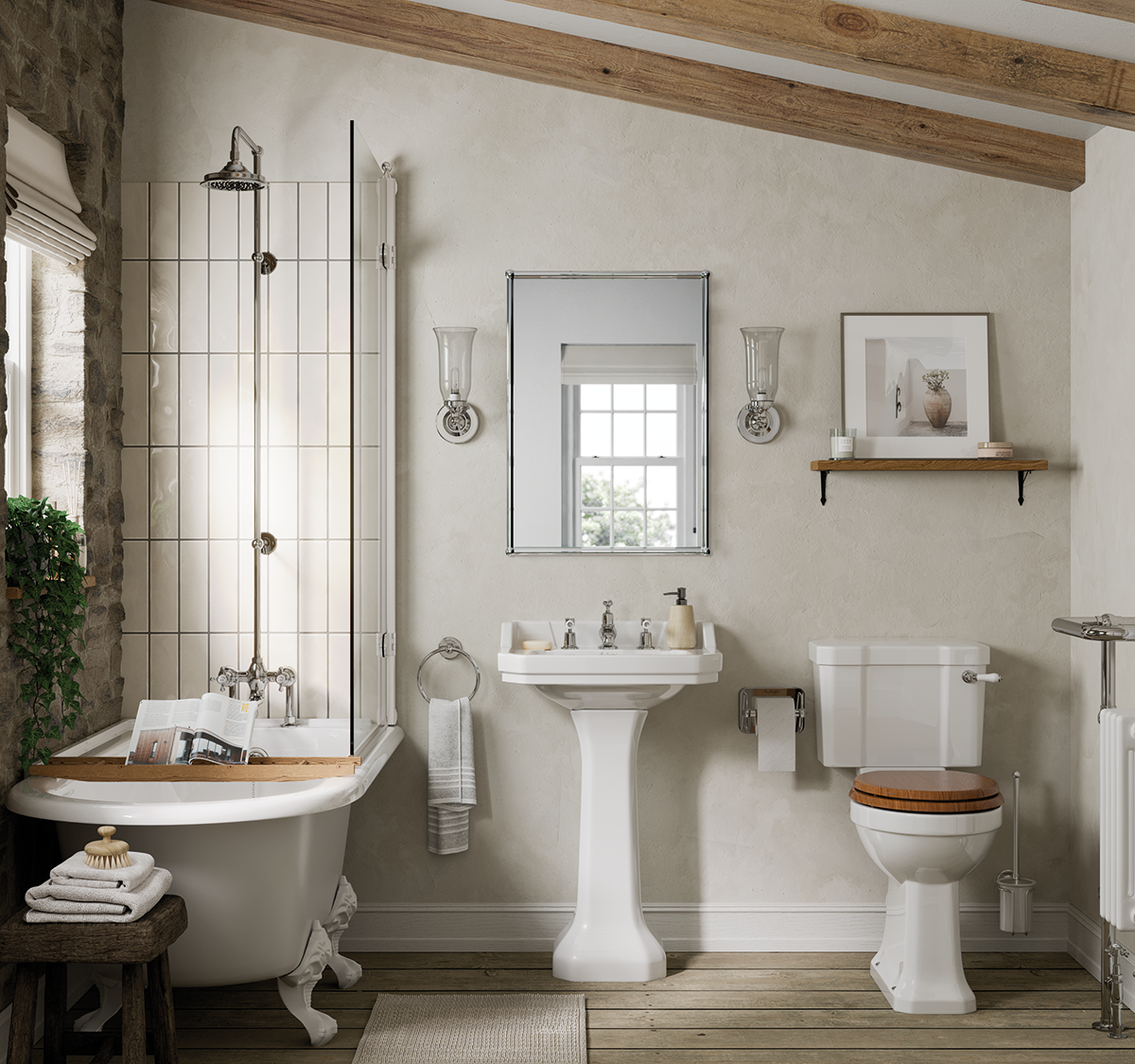 Ready to create your perfect showering experience? Get started with our walk in shower buying guide.