Which Taps Should I Pair with my Basin?
19 May 2020

If you've chosen your traditional Burlington basin, now is the time to choose your taps. We have lots of different shapes and styles available in one, two or three tap hole designs, so you can choose the perfect complementing traditional brassware to complete your bathroom. From classic chrome and nickel finishes to innovative brassware designs, we've compiled a useful guide to help you decide which traditional taps are right for the basin you've chosen.
Black is Back
The use of black in the bathroom has been on the rise as bold patterns and dark accessories have become increasingly popular in interior design. Adding a contemporary twist to the bathroom whilst keeping true to the sought after classic style, our black accent option propels traditional brassware into the modern era. Black accents are available on all of our Anglesey, Birkenhead, Claremont and Kensington traditional taps, so whether you're creating a monochrome scheme with our classic Victorian or Edwardian basins, or a daringly dark bathroom with our new Jet basins, any of these tap head designs will make the perfect statement in your home.

A Tint of Old Ivory
If you've chosen the Medici basin with a subtle hint of mellow ivory, then complement your basin with our Walnut finish available on our Kensington levers. Providing you with a touch of natural warmth, the Walnut taps team perfectly with the unique ivory shade for a truly rustic finish.
For those of you looking for a more subtle tap design, choose our Medici accent is available on all our Anglesey, Birkenhead, Claremont and Kensington traditional brassware to match cohesively with our Medici basins. Inspired by the 1920's Medici is our capsule collection of time-honoured, classic designs lovingly crafted in a subtle, warm-ivory colour to bring "the warmth of sunlight" into the bathroom.

A Touch of Timeless Charm
Opt for a hint of vintage with one of our Arcade basins, which can be perfectly matched with our traditional Arcade brassware. Available in Chrome and Nickel finishes, with Crosshead or Lever designs, the beautiful Arcade shape is sure to add a luxurious and timeless finish to your chosen Arcade basin.
If you're looking to add a difference to a Classic basin, also available with an elegant invisible overflow, then choose the Bridge or Curved Spout design taps. Available in all four head shapes, these statement styles are guaranteed to elevate your basin to stylish new heights.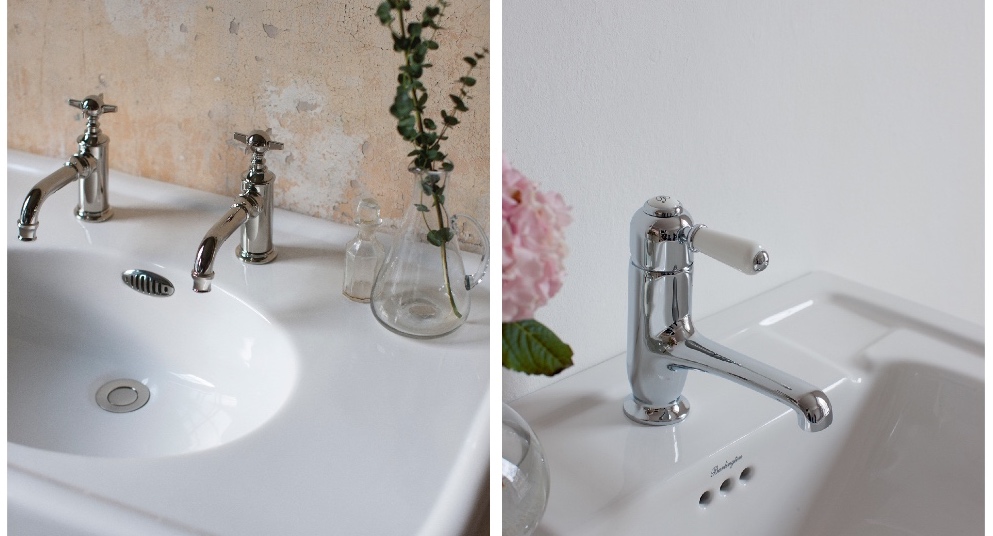 We hope we've given you lots of useful bathroom ideas and tips on which brassware to select. Whether you're looking for traditional taps for a truly classic look, or innovative brassware to create a traditional bathroom with a modern twist, there's a design to suit all tastes and all basin shapes.

Related products