Using Classic Chrome for Traditional Bathroom Design
25 January 2021
Abi Hardiman
Why Choose Chrome?
Colours synonymous of historical eras have remained the forefront of traditional bathroom design, ranging from captivating royal Edwardian blues, to mellow tones of Medici off-whites, and often accessorized with Gold, Nickel, and of course, classic Chrome. Regularly used in traditional bathroom design thanks to its understated elegance, Chrome can execute renowned timeless design. At Burlington, we pride ourselves in capturing the beauty of periodic bathrooms and as such, have devised a guide on how to use Chrome to create wondrous traditional bathroom design.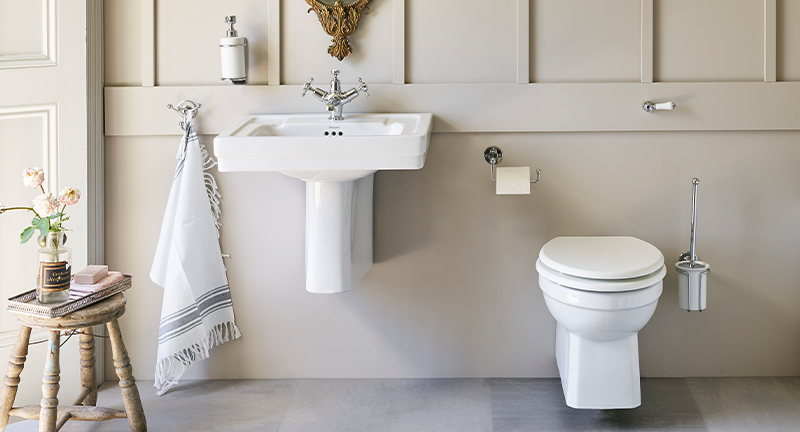 Intricate Chrome: Brassware and Bathroom Accessories
Beginning with the finer features of Chrome in the bathroom, brassware is an excellent place to begin. Although Chrome brassware may be considered standard across many bathrooms, it is the compelling design of our brassware combined with Chrome finish that creates a historic statement piece for exceptional traditional bathroom design. For instance, our popular Claremont Basin Mixer with Click Clack Waste and optional quarter turn features exudes vast quantities of opulence associated with the Victorian era. Thus, this Victorian style basin tap is a simple, effective way of introducing Chrome to intricate details for an understated timeless bathroom look.
Moreover, sparsely integrating subtle Chrome luxuries into the bathroom by opting for Chrome traditional bathroom accessories, including Chrome WC Roll Holder, Tumbler Holder and Soap Dispenser can create alluring detail for magnificent traditional bathroom design.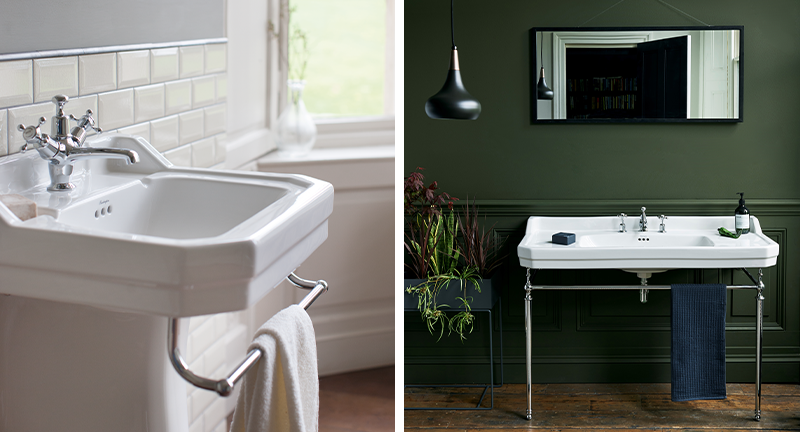 Moderate Chrome: Washstands
The idea of bathroom washstands is one that date back to the 16th Century, with designs flourishing over the last 200 years. The recognition for personal hygeine saw wooden washstands transformed into beautiful bathroom pieces, with particular focus to aesthetics becoming prominent in Victorian and Edwardian eras. As such, Burlington has imitated the timeless characteristics that have paved the way for traditional glamour into a selection of styles and sizes, including the Edwardian 56cm basin with Chrome towel rail to bring a perfect, subtle complement of Chrome.
For those left wanting more when it comes to Chrome and traditional bathroom design, Chrome Edwardian washstands pair beautifully with a white basin for a truly classic feel. The extensive range of Edwardian Washstands in 6 sizes have been created to cater to most bathrooms, such as Edwardian 51cm Basin with Washstand for cloakrooms, to Edwardian 120cm Basin with Washstand for bathrooms on a grander scale, allowing every bathroom to be uplifted with the elegance of Chrome.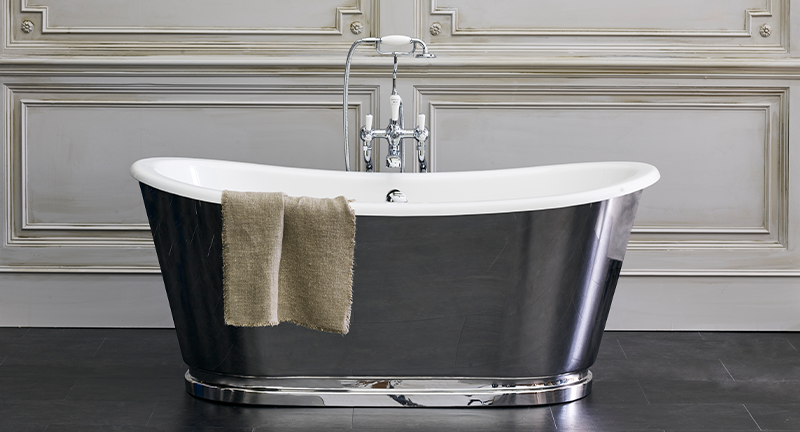 Significant Chrome: Freestanding Baths
To achieve a glorious traditional bathroom design adorned with classic Chrome, integrating a large statement piece, such as our Balthazar Bath, makes this possible. Timeless style, roll top design and expertly perfected with a Chrome finish, the Balthazar Bath creates an unmissable and undeniable statement for any bathroom inspired by history. To complete the look to its entirety, match with Kensington Deck Mounted Bath Shower mixer for a beautiful complement to the Balthazar Bath and coordinate with the Kensington Basin Mixer with Click Clack Waste to conclude a classic and coherent Chrome traditional bathroom design.
For luxurious, understated, elegant details, the use of Chrome within traditional bathroom designs is one to be considered. Combined with the expert design of Burlington bathroom products, Chrome can be sure to emanate sophisticated splendor identical to that of Victorian and Edwardian eras for modern traditional styles that replicate history.
For more inspiration on introducing traditional colours into the bathroom, visit our instagram: @BurlingtonBathroom.

Related products