27 September 2021
Abi Hardiman
Our Favourite Traditional Bathroom Designs of 2021
Searching for design inspiration? From traditional family bathroom ideas to modern classic settings, we've rounded up our favourite traditional bathroom designs of 2021 to bring you timeless schemes to suit your lifestyle. Hand-selected for exquisite styles you'll want to replicate in your home, keep reading to uncover your perfect traditional bathroom design.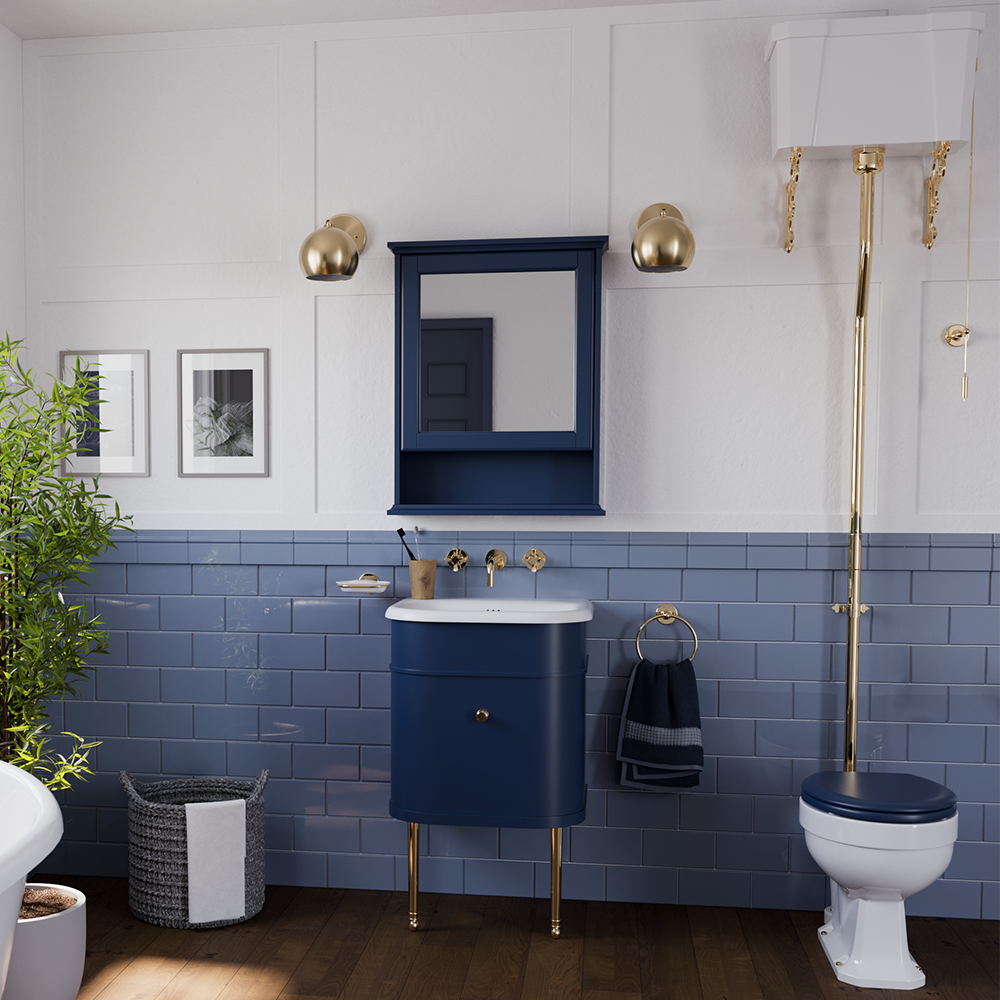 Effortlessly Glamorous​
Searching for complete tranquillity? Indulge in a classic blue colourway to bring undivided relaxation to your home.
Featuring a Chalfont vanity unit and Mirror Cabinet in Blue for extravagant storage space and tied together with a Soft Close Seat in Blue, incorporating colour into traditional bathroom design has never been easier.
Looking to maximise grandeur? Adorn your scheme with Gold bathroom accents and accessories to match Gold Chalfont legs for a truly time-honoured look. Complete your design with a Standard High Level WC featuring a Gold Flush Kit for an altogether cohesive scheme that brings effortless glamour to your space.
Inspired by this scheme? Find a retailer here to recreate this scheme for yourself.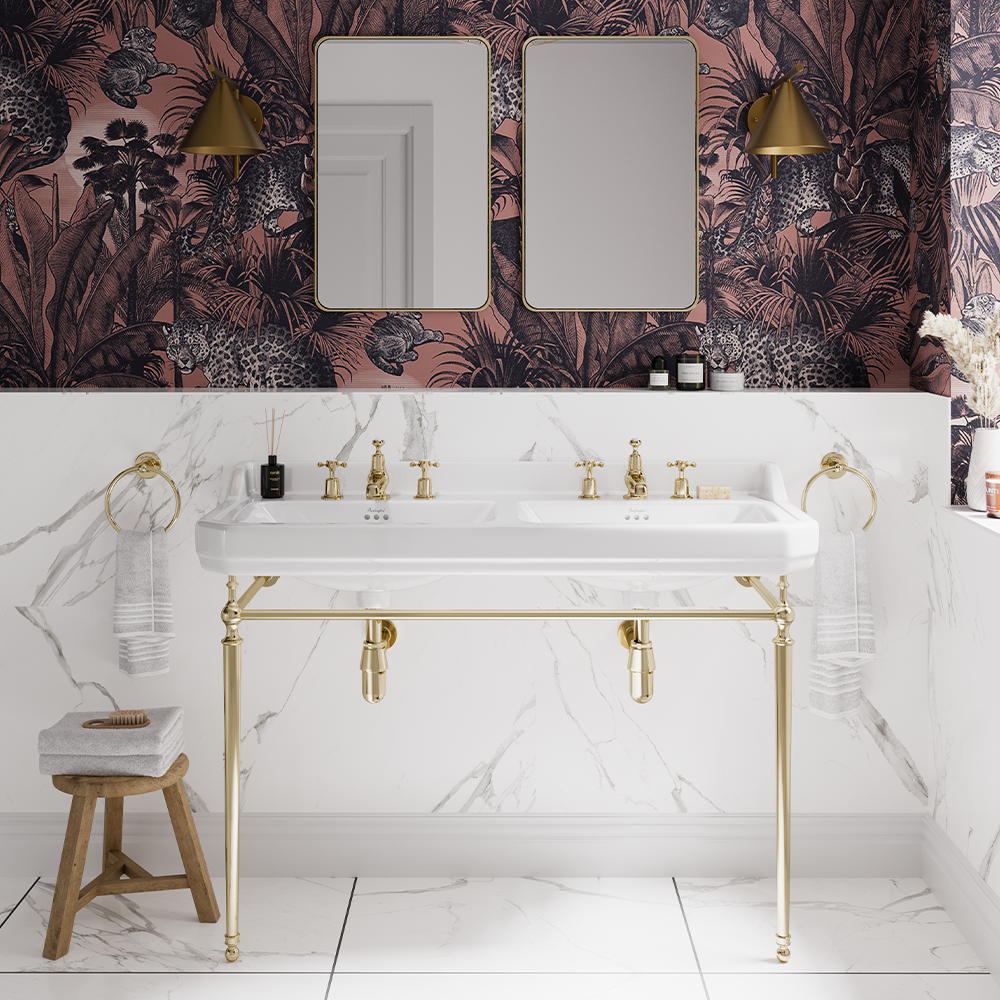 Classically Coordinated
Welcome timeless design to the home with a refreshing take on traditional bathroom design.
A majestic centrepiece that promises to captivate, the Edwardian 120cm Double Basin with Gold Washstand seamlessly blends beauty and function for a design that not only exudes understated elegance but ensures ample space to facilitate family life.
A design that's as classic as it looks? With quarter turn features reminiscent of periodic eras, Claremont 3 Tap Hole Mixers in Gold make the perfect addition to any traditional bathroom design. Matched with other Gold bathroom accents, this scheme promises a time-honoured statement that won't go unnoticed.
Find your nearest retailer here to bring the look to your home.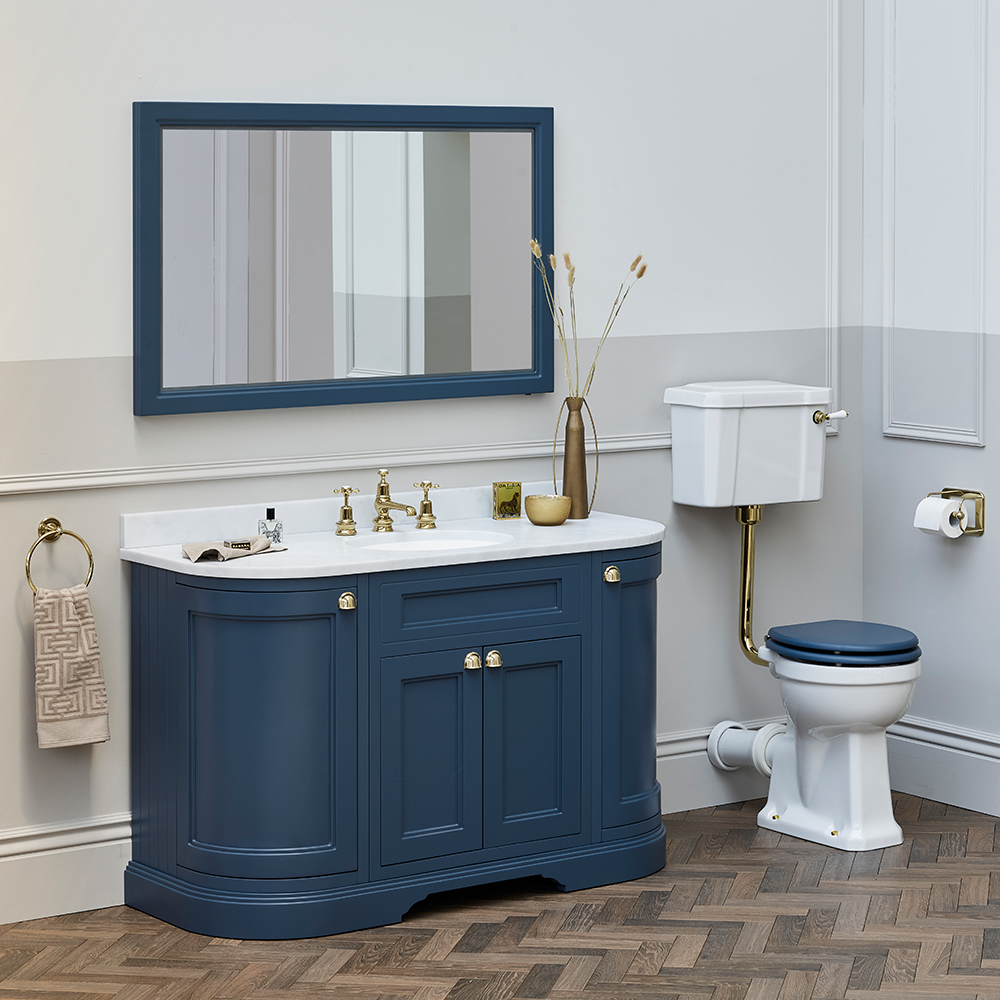 Magnificently Traditional
A colour strongly associated with complete escapism, Blue also has strong ties back to Edwardian and Victorian eras, making it an obvious choice within traditional bathroom design.
Taking pride of place in this setting, the Freestanding 134 Unit in Blue embodies impressive storage space with a classic design that's able to conceal all bathroom essentials behind a choice of four doors.
Perfect for traditional family bathrooms, pair the Admiral Double Ended Bath with a Claremont Bath Shower Mixer for a seamless choice of showering and bathing to suit every preference.
Want a fully cohesive look? Tie your scheme together with Gold Claremont brassware across the bath and basin and accessorise accordingly for a truly decadent scheme.
Found your dream traditional bathroom design? Visit your local retailer to get this look in your home.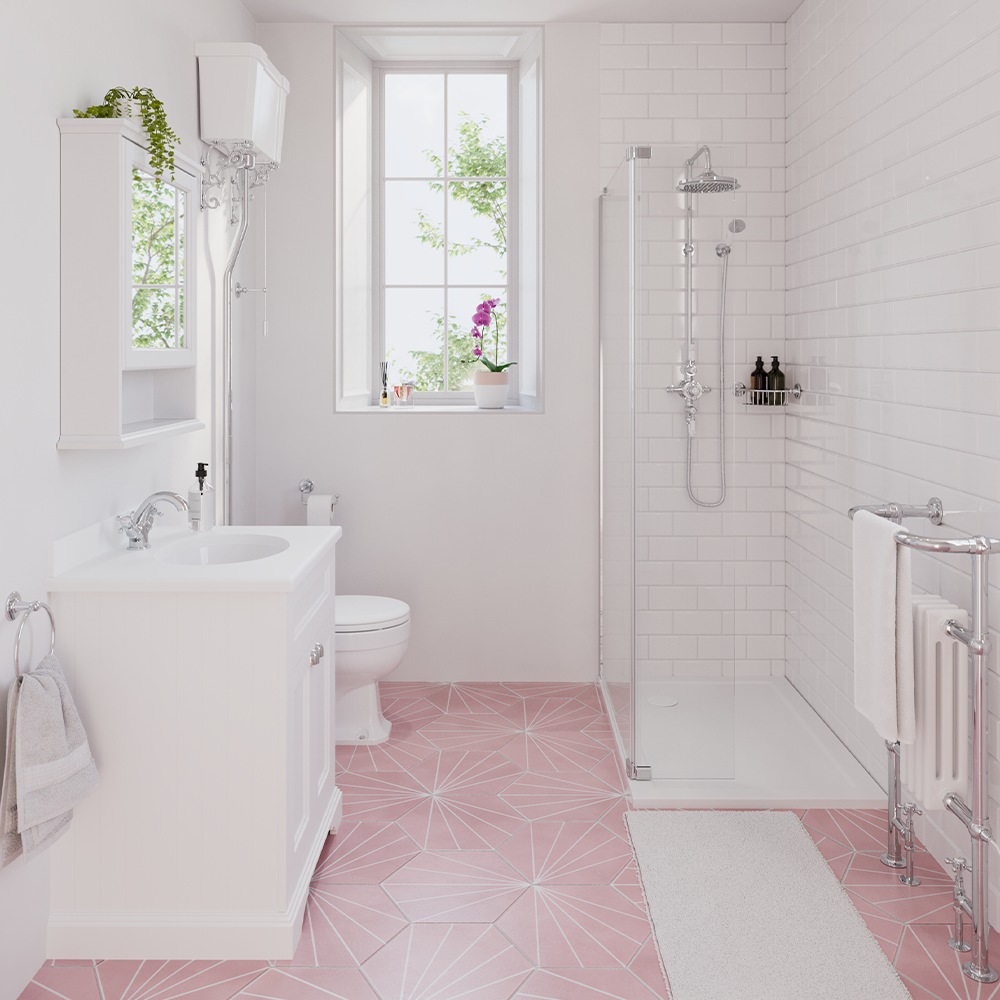 Elegantly Refreshing
Searching for a traditional bathroom design that subtly prompts wellness? With a nod to classic styling, this refined design uses an inviting colour palette of white, pink and Chrome to create the perfect space to take refuge after a long day.
Bringing a refreshing Matt White finish, the Freestanding 65 Unit and Mirror Cabinet make the perfect pair for providing exceptional storage space in keeping with traditional bathroom design. Keep it classic with a Claremont Mono Basin Mixer in Chrome for an undeniably sophisticated scheme.
Striving towards a truly authentic bathroom? Introduce other Chrome elements across the space, including Avon Thermostatic Shower and Towel Ring for intricate touches that tie the scheme together. Finally, finish with a Bloomsbury Radiator to inspire an altogether comforting setting.
To recreate this domestic escape in your own home, visit your local retailer today to get started.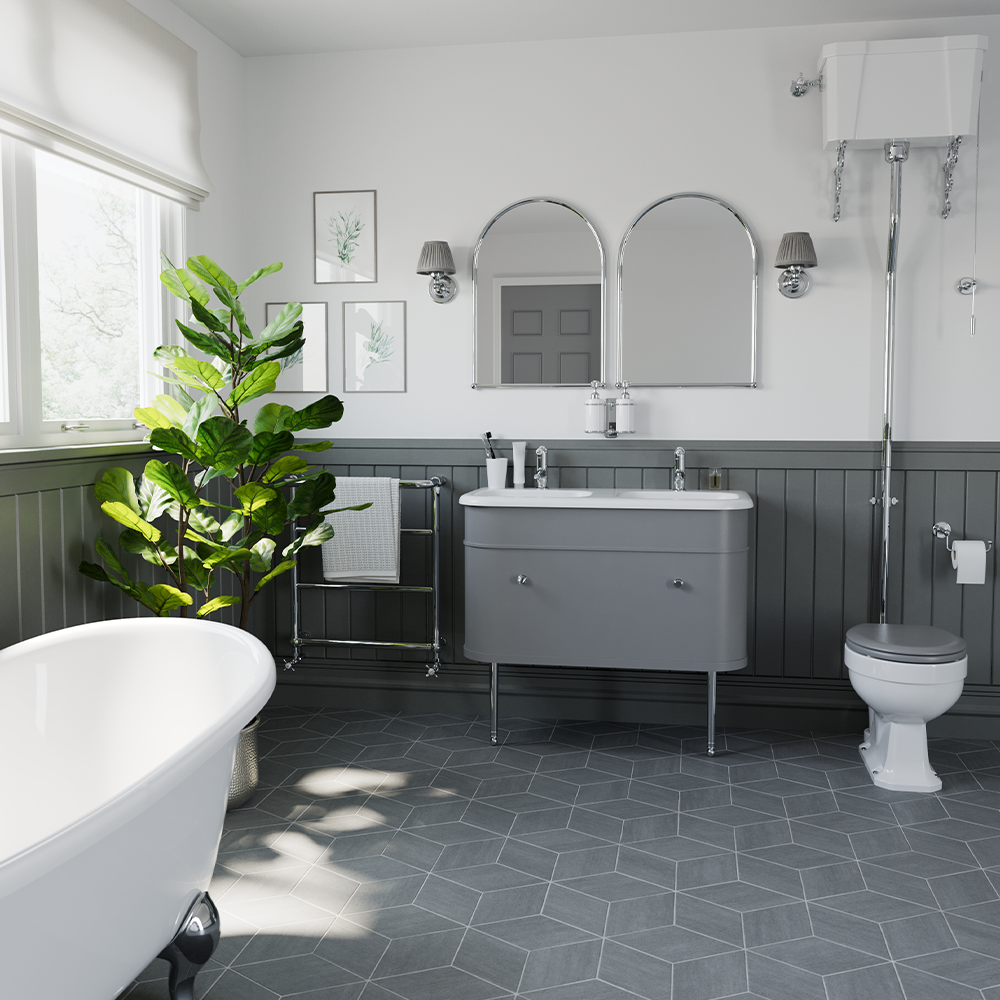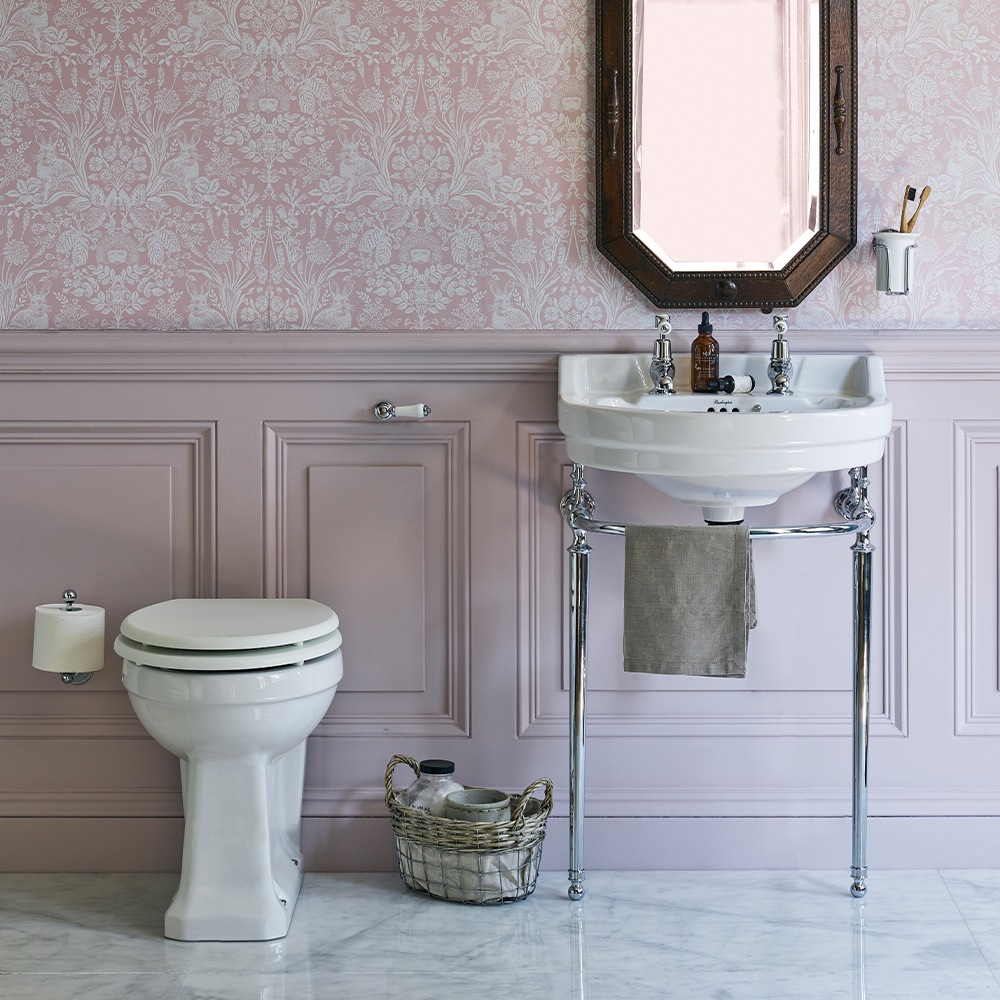 Exceptionally Timeless
Want the perfect traditional family bathroom? Or looking inspire your next cloakroom scheme? For a design that's guaranteed to impress, place time-honoured ceramics against a classic backdrop for an unmissable nod towards traditional bathroom design.
Adore a period-inspired piece? Uncover a design reminiscent of the Edwardian eras with an Edwardian Round 56cm Basin and Basin Stand, condensing classic style to enhance even the smallest of spaces. Effortlessly complement the look with Kensington 3" Basin Taps in Chrome for a timeless statement.
Why not further sophistication with intricate Chrome touches? Opt for a Tumbler Holder and other Chrome accessories for a cohesive and decadent design throughout.
Visit your local retailer today to bring traditional bathroom design to your home.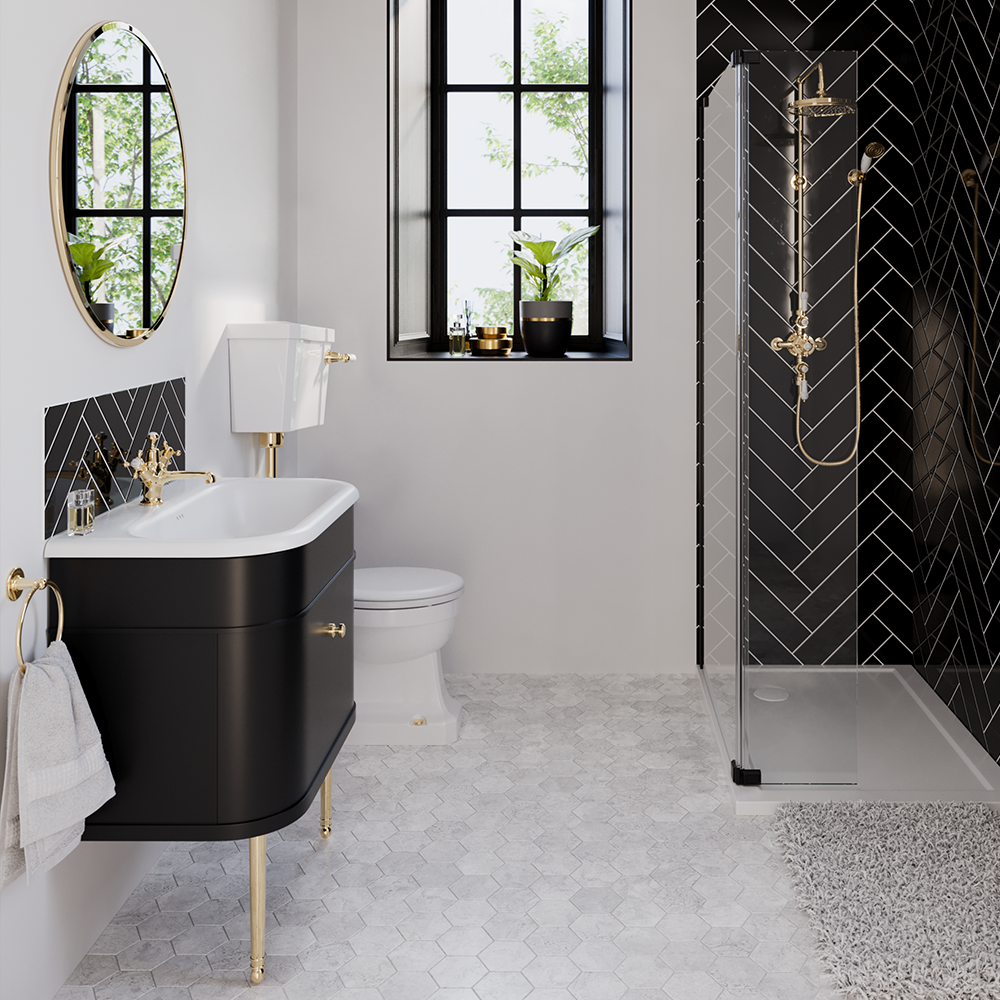 Delicately Dark
Isn't this traditional bathroom design simply exquisite? A mesmorising modern classic bathroom idea, this setting welcomes a bold look with Black and Gold for a design that refuses to go unnoticed.
Embodying both classic and contemporary styling, the Chalfont vanity unit pairs perfectly with modern herringbone tiling for a design that remains both in keeping with tradition while adding a contemporary twist.
Looking for a statement traditional bathroom design? The Matt Black finish of the Chalfont vanity unit effortlessly offsets Gold bathroom accents for added opulence. Pair the Chalfont vanity unit with Gold legs and handles to perfectly match other Gold touches like the Claremont Basin Mixer, Avon Thermostatic Shower and Standard Low Level WC with Gold Flush Kit for a modern traditional bathroom design that remains timeless.
Want to recreate this modern classic bathroom idea in your home? Visit your local retailer today.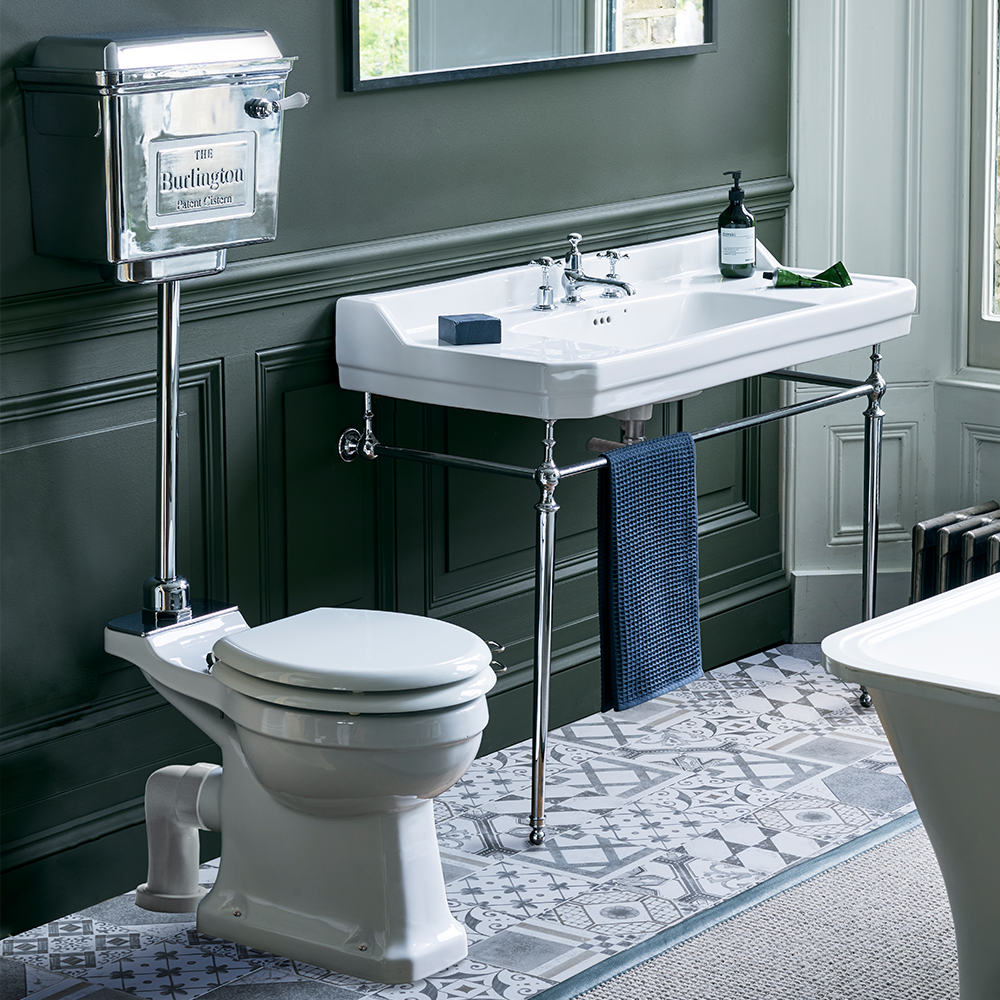 Naturally Sophisticated
What's better than a beautiful traditional bathroom design? A traditional bathroom that's both beautiful and restorative. The ultimate place to unwind following a long day, this nature-inspired retreat utilises the familiarity of traditional design to bring comfort to the home.
Emphasising classic style, the Medium Level WC with Chrome Lever Cistern ensures a grand statement. Delicately engraved with the Burlington logo, the Medium Level WC with Chrome Lever Cistern has been beautifully designed to give an obvious nod towards tradition.
A cohesive scheme can be seen with intricate Chrome accents, such as Claremont 3 Tap Hole Mixer, set to perfectly complement the Edwardian 120cm Basin Wash Stand in Chrome for the height of sophistication.
Looking for a contemporary spin? Add bold floor tiles and an on-trend green backdrop for a modern classic bathroom idea that inspires complete contentment.
Love this impressive traditional bathroom retreat? Find your local retailer here to get the look..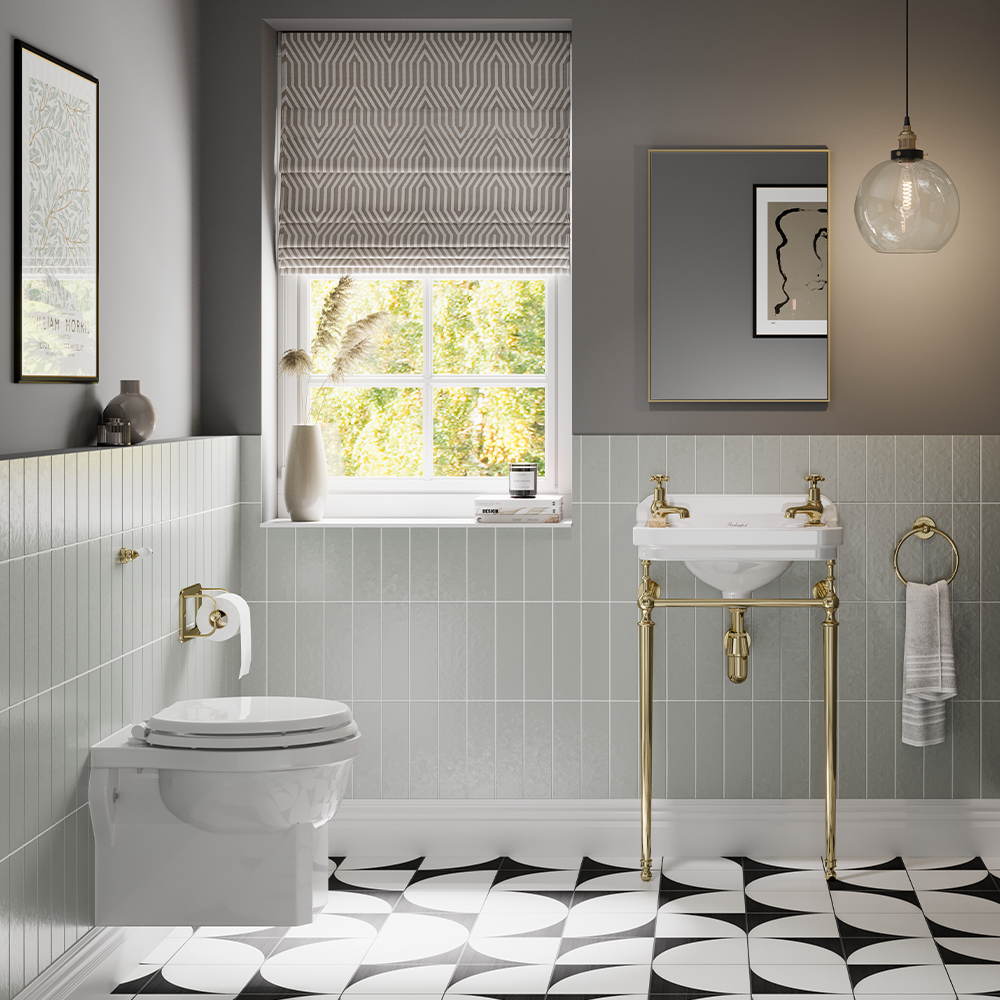 Subtly Extravagant
Want a modern classic bathroom idea perfect for smaller spaces? Be inspired by this glorious setting, striking the perfect balance of classic and contemporary for an idyllic traditional family bathroom.
For maximised space without compromising on style, opt for the Edwardian 510mm Cloakroom Basin with Washstand and Wall Hung Toilet. Embodying exquisite design within their compact stature, this pair makes it easy to create a beautiful traditional bathroom design irrespective of bathroom size.
Why not heighten sophistication within your scheme with Gold bathroom accents? Adorned with Claremont 3" Basin Taps and Towel Ring, discover Gold bathroom brassware, accessories and more to suit your preferred look.
Finally, add a subtle injection of contemporary into your modern traditional bathroom design with striking patterned tiles for a complete look that's set to last the years.
Want the bring the look to your home? Find your nearest local retailer here.