How to Introduce Blue to Traditional Bathroom Furniture
23 November 2020
Abi Hardiman
The colour blue has continuously been used throughout Great British history, including within jewel tones of Victorian and Edwardian eras. Renowned for its historic relations, this infamous blue has earned associations of royalty and elegance in the traditional sense. When considering the introduction of this classic blue colour into your home, it can undoubtedly create an opulent feel to your traditional bathroom decor.
At Burlington, we are pleased to introduce our new signature Blue traditional bathroom furniture collection, involving a range of styles and sizes to effectively incorporate classic bathroom design with a modern take. The demand for traditional blue bathroom furniture has increased dramatically within interior design industry, and as such, means our range extends across traditional style bathroom vanity units, mirrors, and toilet seats.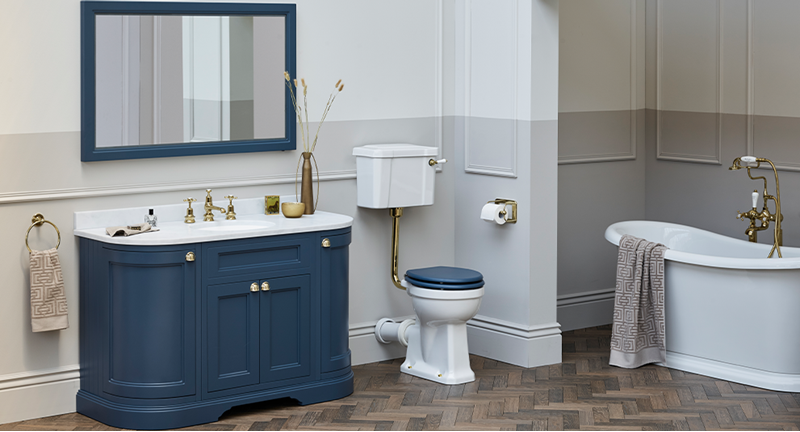 Why Blue?
The colour of tranquil seas and peaceful lakes, the clear connections between blue and water make the transition of blue into the bathroom effortless. As a space often used for relaxation, the use of deep blue tones within your bathroom can contribute to a calm and soothing ambience.
If you're looking for a subtle way to incorporate this on-trend look, we recommend opting for smaller fixtures to add an element of serenity to your bathroom without having to amend your interior. Our Blue Edwardian Vanity in the flawless blue finish is a compact way to provide an injection of colour into a smaller room, brightening space while gaining spacious storage. For bigger bathrooms with more space, our larger Curved Blue Edwardian Vanity brings a grand statement into the home. To make a striking impact, we recommend pairing this unit with a matching blue mirror for the ultimate reflection of true elegance.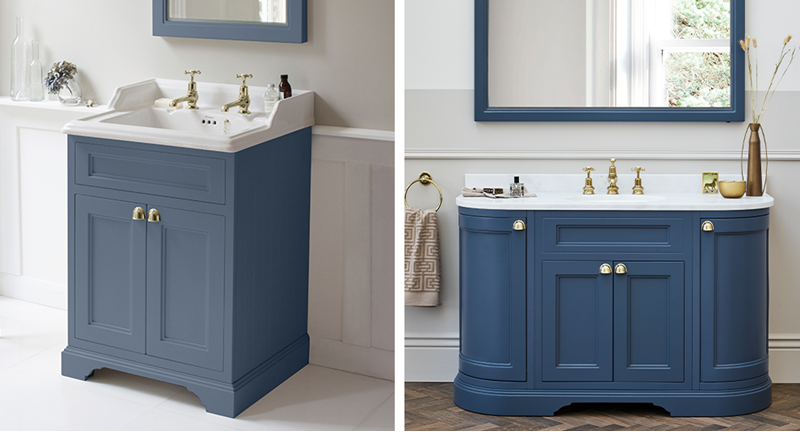 Create a Perfect Pairing with Burlington's Brassware
While the exclusive blue collection creates bold beauty, attention to intricate traditional bathroom fittings can help accentuate the colour to all of its glory. At Burlington, our recent release of new Nickel and Gold brassware finishes complement the blue bathroom furniture range perfectly. The use of either Nickel or Gold metallic tones can illuminate your bathroom and bring subtle charisma in keeping with the traditional bathroom decor.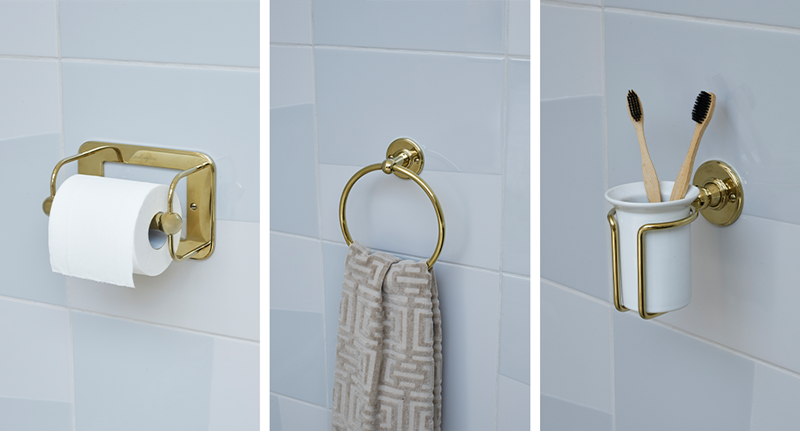 For a truly Victorian bathroom feel, we recommend opting for the exquisite Gold finish to complement the jewel blue tone and add grandeur to your home. Integrating our luxurious range of traditional bathroom fittings - such as Tumbler Holders and Towel Rings - in a glorious Gold finish completes the traditional bathroom design whilst reinstating a sense of opulence.
If you are seeking a more subtle look, consider the stunning Nickel finish for traditional bathroom decor boasting understated elegance. Both colours are exceptional at offsetting the rich blue tone in a way that is minimal, yet captivating, giving you the flexibility to be bold with blue bathroom design.
We hope our guide has inspired you how to be brave with blue in your bathroom. For further inspiration, explore creative visuals of the Blue traditional bathroom furniture collection and classic bathroom fittings on our Instagram.

Related products