Guest Blog: Reimagining 1920's Design for Modern Traditional Bathrooms with Riviera
Once a space solely dedicated to function and purpose, the bathroom has flourished into a room for wellness, providing privacy, pleasure and contentment. As such, bathrooms have left behind mundane schemes in pursuit of indulgent designs that create a comforting ambience and instill positive emotions for an enhanced experience. With wellbeing continually placed at the forefront of design, today's homeowners are seeking calming styles, underpinned with luxury for the full embodiment of a spa-like experience within their own home.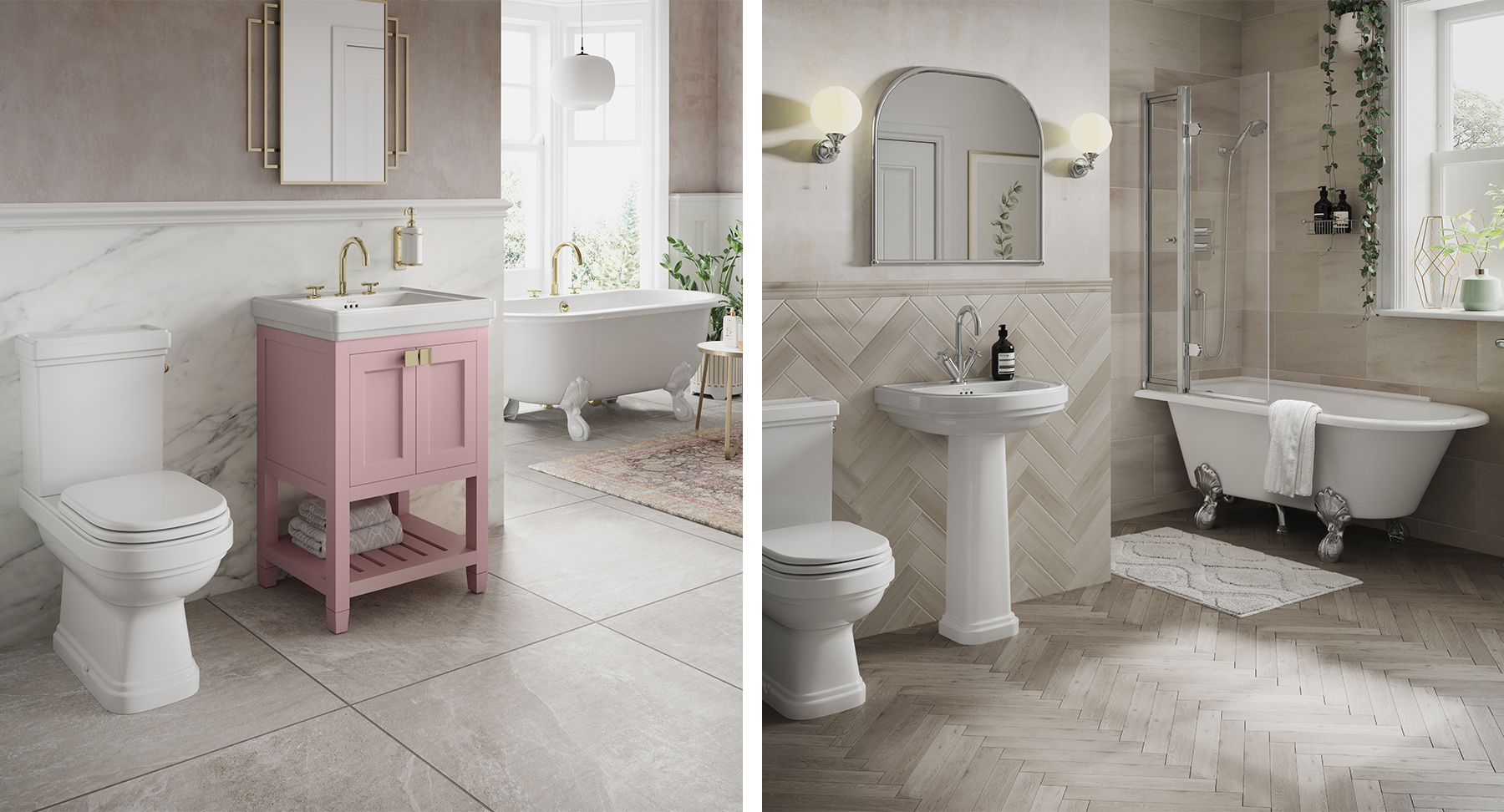 Often revisited in times of solace, the past allows us to feel grounded, simpler times providing a relaxing familiarity – which explains why traditional bathroom designs remain ever relevant within contemporary homes. The 1920s is an era renowned for its glamour, style, optimism and energy, encompassing all that's needed for a nostalgic mood boost in the home.
A drastic design-led change following the hardships of World War I, the 1920s embraced clean lines, straight edges and rounded angles in the welcome of new beginnings. Alongside a refreshed creativity came a renewed interest in beauty and aesthetics, a sentiment which underpins the Riviera Collection by Burlington.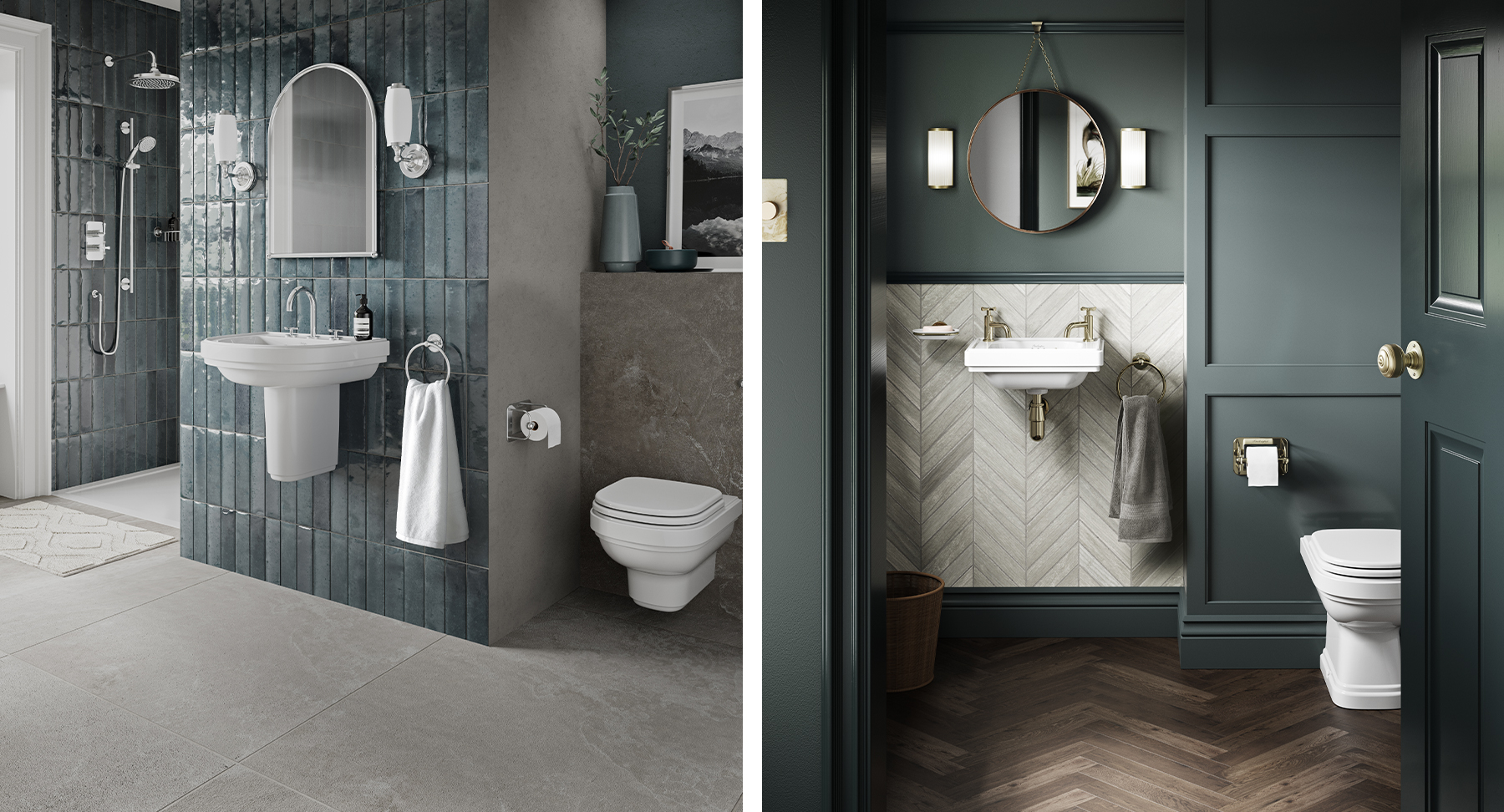 Designed in the UK by Christian Booth Design in collaboration with Burlington, the Riviera Collection captures the dynamism of the Art Deco 100 years after its emergence, combining 1920s style with modern shapes for a collection to suit contemporary and period properties alike. An exquisite array of wash basins, WCs, vanity units and brassware, the Riviera Collection can be integrated with Burlington accessories and Clearwater products for a full modern traditional bathroom solution.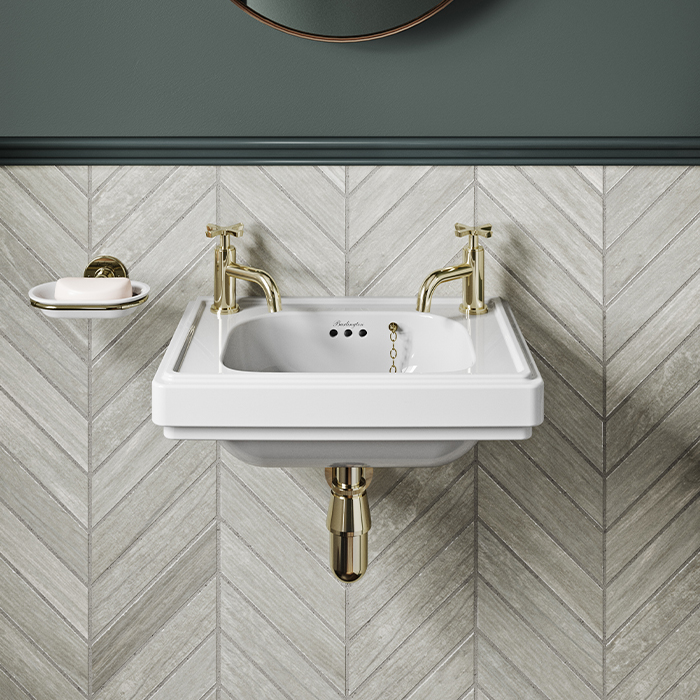 Ceramics
Delicately handcrafted with clay from Devon and Cornwall, the Riviera collection ranges six wash basins, defined with soft, round D shapes or more angular squared pieces to harness the elegance of the Art Deco.
With full pedestal, wall mounted semi pedestal and cloakroom options, Riviera's basins bring 1920s-inspired glamour into any modern or traditional bathroom scheme. Joined by a selection of WCs in wall hung or back-to-wall models, Riviera's beautiful ceramics feature linear 1920s detailing for exceptional modern-classic bathroom design.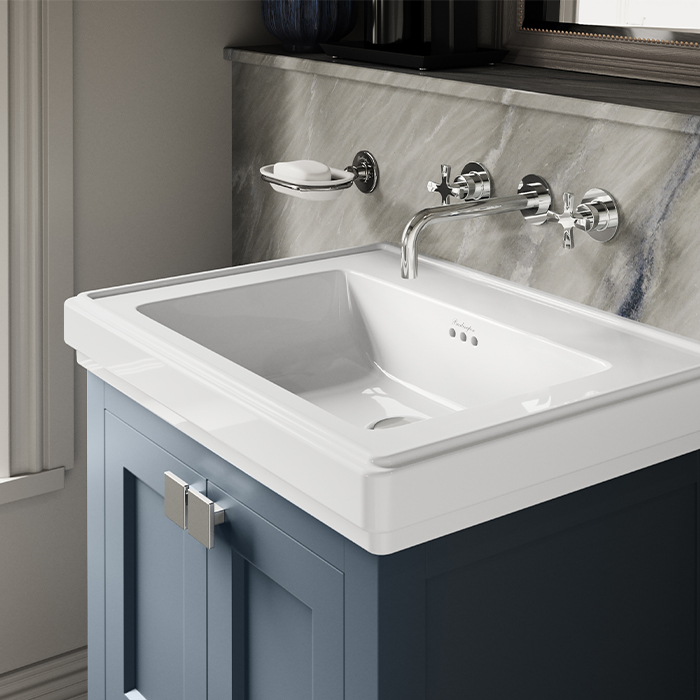 Vanity Units
Characterised by smooth, geometric lines and soothing colours, Riviera vanity units meld the Art Deco with practical details to seamlessly fuse form and function. Meticulously crafted with a durable, UV-resistant resistant coat, Riviera vanity units can withstand the effects of sunlight exposure and are extremely durable to cater to everyday demands.
Delivered fully assembled and available in two sizes, Riviera vanity units are available in a choice of Matt White, Matt Pink or Matt Blue to create a traditional bathroom design with a modern twist.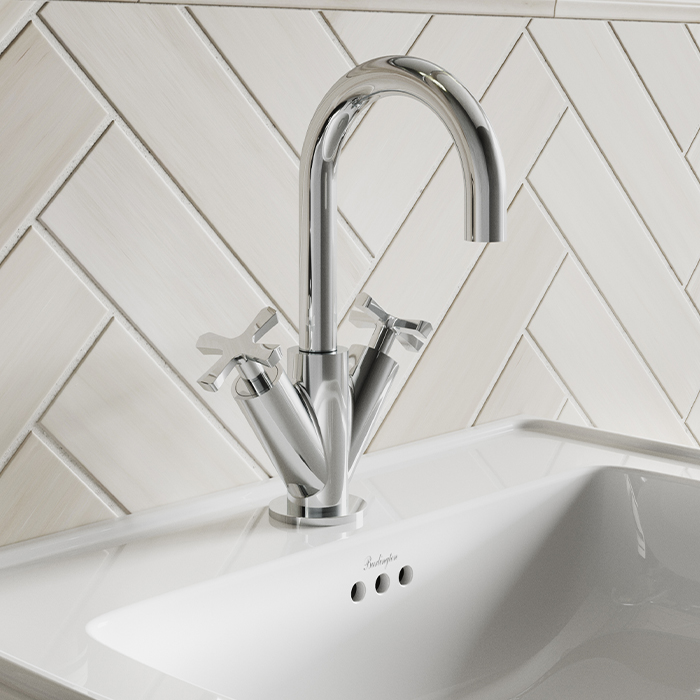 Brassware
In keeping with Art Deco principles, Riviera brassware ensures functional elements remain beautiful by using the finest materials, manufacturing techniques and innovative technology. An elegantly designed selection of traditional bathroom fittings, Riviera taps and mixers feature perfectly cylindrical bodies and spouts, finished with faceted handles for a flawless collection of 1920s-inspired bathroom brassware.
While basin brassware can be wall or deck mounted, bath brassware provides rim mounted and floor-mounted fittings and showering brassware offers solutions for over-bath and walk-in. Available in a choice of Chrome or Gold finish, all pieces are finished with aerated flow spouts for immaculate water flow while promising reduced water usage.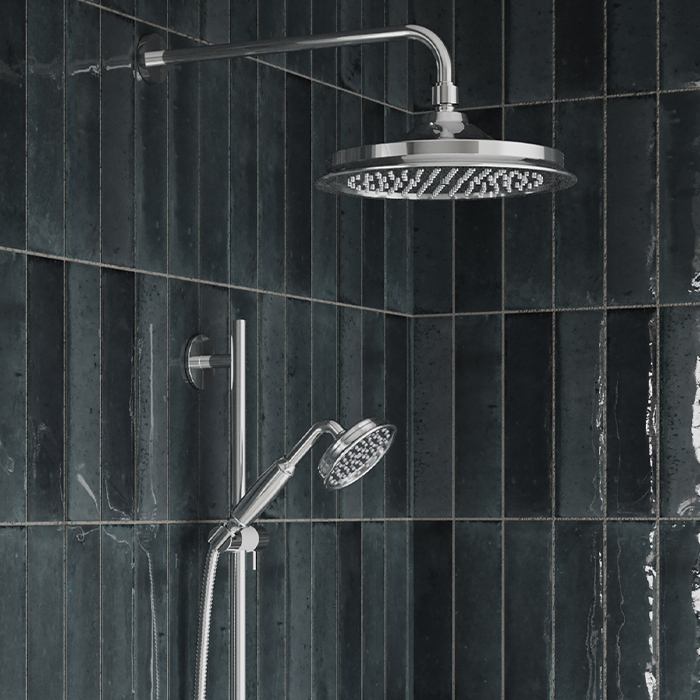 Showers
Providing comprehensive showering solutions, Riviera includes single and dual outlet valves, a handset and hose, slide rail and a range of shower heads which have all been meticulously designed to encompass an Art Deco aesthetic while enhancing the modern traditional bathroom.
Featuring the latest technology, such as thermostatic control valves with accurate temperature control and fixed showerheads with Airburst technology for a decadent showering sensation whilst saving water, the Riviera collection ensures function to match form for an impressive 1920s-inspired bathroom.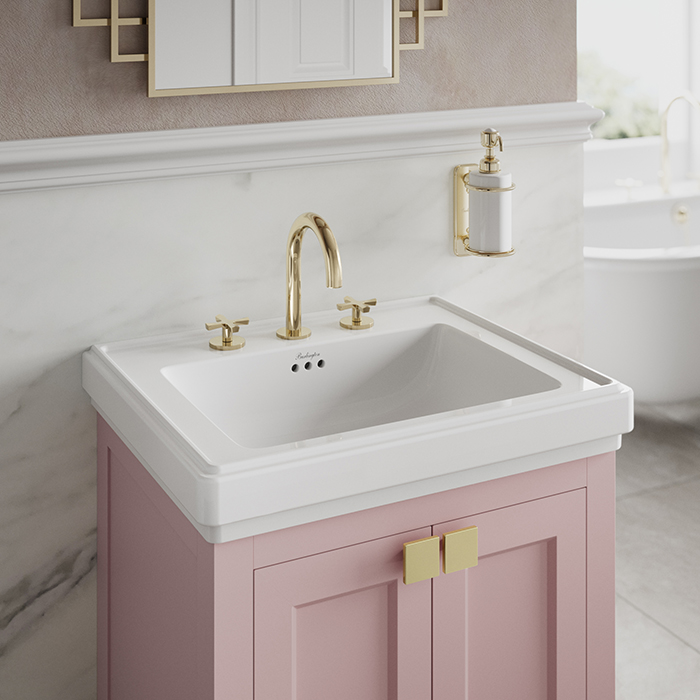 Accessories
Bathrooms featuring the Riviera Collection can be accentuated further with Burlington's collection of coordinating Gold or Chrome finish accessories to tie together the modern traditional bathroom design. Adorn your bathroom with intricate details such as soap dispensers, dishes, WC roll holders, towel rings, as well as radiators, mirrors and more to celebrate the nostalgia of the Art Deco in all its glory for an all-encompassing 1920s-inspired bathroom.
''Burlington's Riviera Collection is a throwback to the creativity and allure of the Roaring Twenties, embodying 1920s-style freedom of expression with an up-to-date twist,' says Graeme Borchard, MD at UK Bathrooms. 'The collection's shapely lines and smooth forms bring Art Deco gracefulness to the bathroom at a time when we most need its positive philosophy, beauty and luxury feel."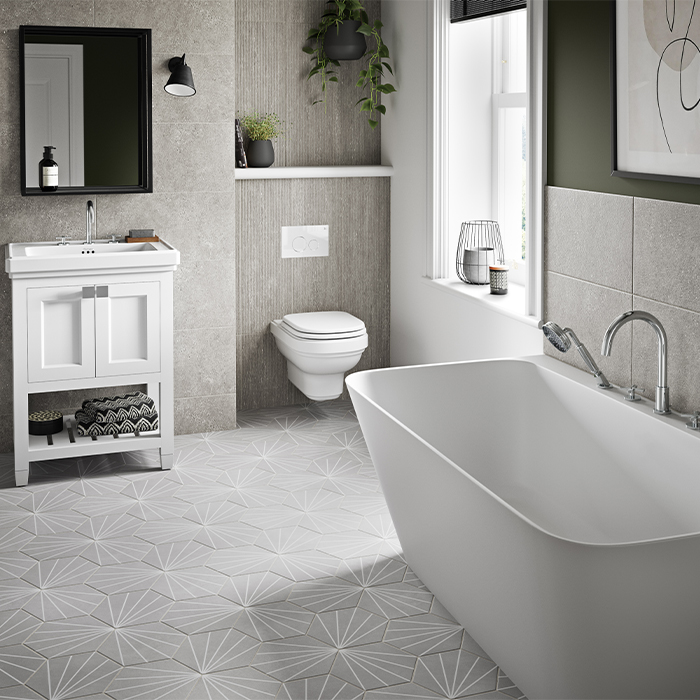 Create your Burlington Bathroom
Find your local retailer and bring Burlington to your bathroom.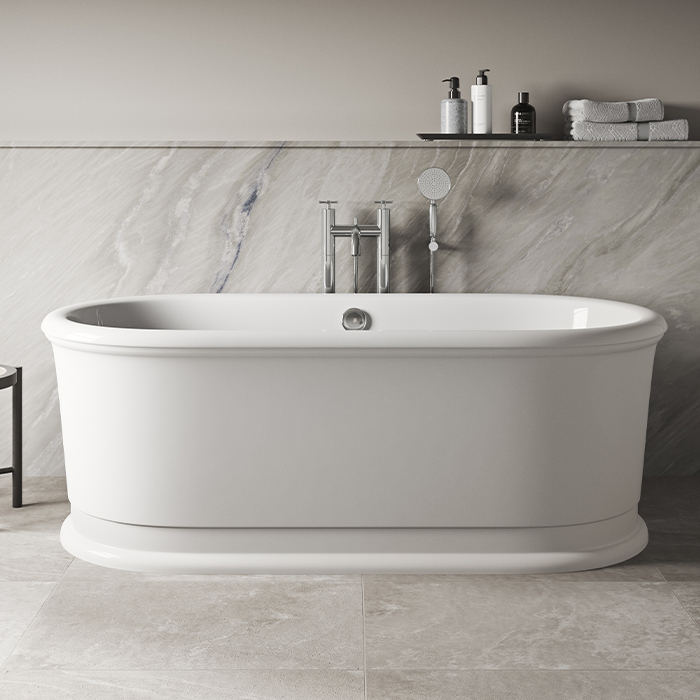 View the Full Collection in our Brochure
For our full range of traditional bathroom products, view our brochure.