Creating your Traditional Cloakroom Suite
14 May 2021
Abi Hardiman
Just as exciting as renovating the bathroom, the process of bringing an impressive design statement to a compact cloakroom space can feel particularly rewarding. The task of transforming a cloakroom is not only an exciting one, but an effortless one with an extensive selection of products specially designed to enhance these smaller areas. With this in mind, read on to discover how to create an endearing traditional cloakroom suite to suit your preferences with Burlington.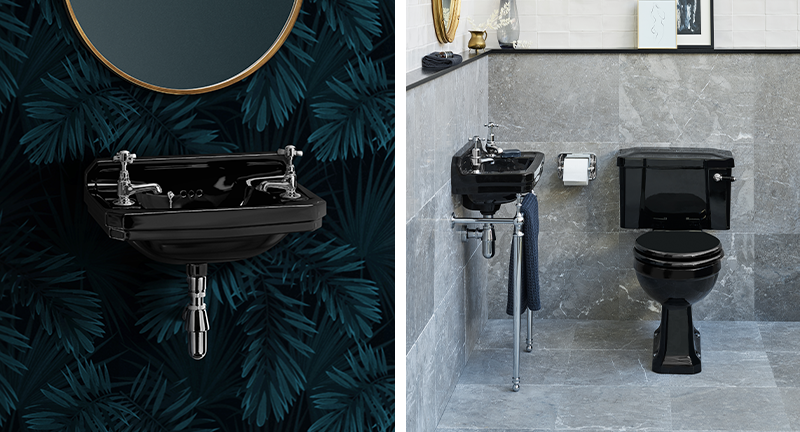 Natural Decadence
Recognised for its soothing and sophisticated properties, the colour black has quickly become a favourite in interior design - and the sleek black of our Jet ceramics collection is hard to overlook. From dark interiors, like this indulgent retreat complete with leafy decor, to lighter styles with marble and white details, the versatile Jet ceramics work well within any traditional cloakroom suite. The intense colour of the 51cm Edwardian cloakroom basin allows it to take pride of place in this elegant scheme, regardless of its compact size. What's more, the basin has the option to be wall hung to suit more minimalist settings, or paired with a Chrome basin stand and finished with Claremont 3" basin taps and accessories for a truly sophisticated setting. Styled with a Jet Standard CC WC, the black Jet ceramics culminate feelings of tranquility and peacefulness for the perfect additions to traditional cloakroom suites and small traditional bathrooms alike.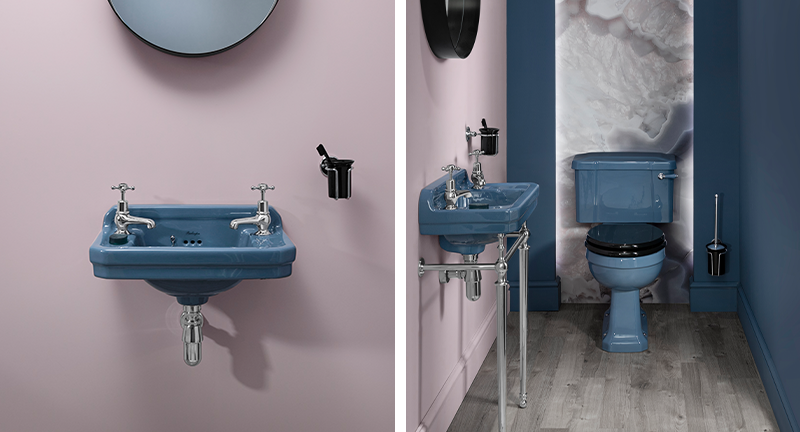 Eclectic Colour Palettes
Looking to enliven your cloakroom? Explore endless possibilities with colour for inviting spaces. A prime example of how colour can accentuate traditional cloakroom suites, the muted pink backdrop with invigorating Alaska Blue ceramics strikes an ideal balance between subtlety and lively design. For a look true to tradition, opt for an Alaska Blue Edwardian Cloakroom Basin with basin stand, and pair with matching Alaska Blue Standard CC WC. For intensified colour in a traditional cloakroom, add a Gloss Black soft close seat to the traditional cloakroom toilet for an exaggerated pop of colour.
Corners and Classic Styling
Perfect for maximising space, corner solutions work particularly well within cloakrooms and small traditional bathrooms. Beautiful and simplistic by design, the Corner Edwardian cloakroom basin is able to accentuate any bathroom scheme effortlessly, especially within more minimalist settings. On the contrary, the rich and refreshing traditional cloakroom suite complete with Freestanding 43cm Corner vanity unit against a deep-sea coloured backdrop makes a great alternative for cloakrooms seeking a balance of style and practical storage space.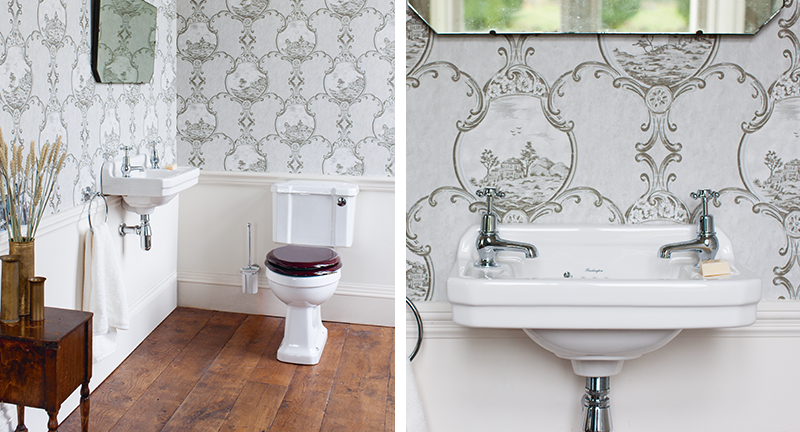 Traditional Indulgence
A more conventional traditional design featuring darker wooden tones and classic patterned wallpaper, this scheme works best with white ceramics, like that of the Edwardian cloakroom basin and Standard CC WC, to capture a timeless cloakroom design. Ideal for traditional cloakroom suites and smaller traditional bathrooms, the hint of darker colour from the Mahogany WC Seat creates a focal point to navigate attention from the cloakrooms size to its glorious design. Complete with subtle touches of Chrome throughout, including Claremont 3" basin taps and towel ring, this traditional cloakroom suite is the epitome of classic design.
For more designs for your traditional cloakroom suite or bathroom, follow us on Instagram: @Burlingtonbathroom

Related products