30 June 2022
Abi Hardiman
5 Nature-Inspired Ideas for Traditional Bathrooms
What's not to admire about nature? Elegant visuals, graceful details and picturesque landscapes make for expressive design unlike any other. As more interior styles recognise the benefits of unrefined beauty for calm, comfort and contentment, nature in the home has increased drastically within places of refuge. So, how can you be sure to reap the rewards of nature in your traditional bathroom? Here's 5 elegant bathroom ideas to get you started…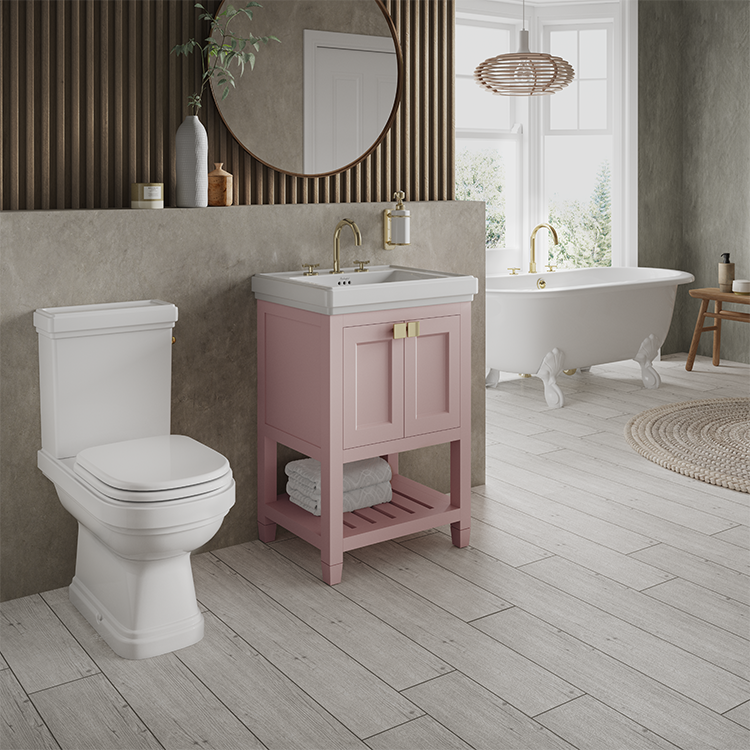 1. Colour Considerations
While greens and blues are commonly cited amongst nature, don't let this limit your traditional bathroom possibilities. A less obvious choice at first glance, the colour pink can be seen throughout nature in flowers and gemstones, allowing the gentle Pink hues of our Riviera vanity unit to flourish in this naturally elegant bathroom idea. Reiterated with other nature-inspired elements, such as a wood backdrop, hints of wicker and statement Gold brassware, this traditional bathroom design prompts everyday relaxation with an alternative take on nature.
2. Pay Heed to Finer Details
Got your heart set on a statement piece? Bring it to life with finer details. Adding a glorious depth to this traditional bathroom, the Matt Black Chalfont furniture unit takes centre stage with its undeniable serenity. Maintaining a monochrome appearance using Chrome brassware with black accents and complementary black toilet seat, this elegant bathroom idea ensures a timeless twist for modern classic bathrooms. Complete with marble tiles positioned opposite, here's a simple design to bring a subtle touch of nature to suit small cloakroom suites and bathroom alike.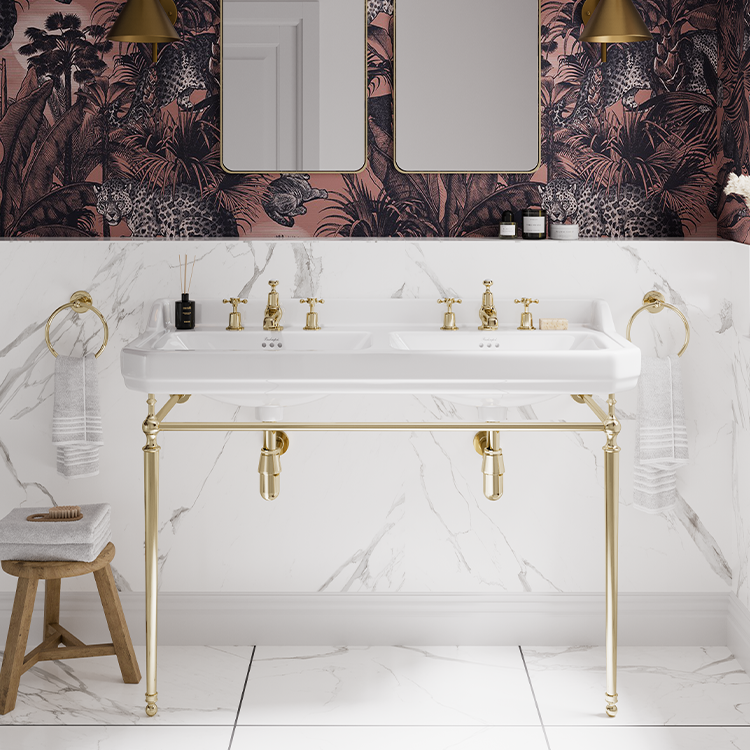 3. Subtle VS Statement Wallpapers
Searching for a simple way to bring nature to traditional bathrooms? Explore the stunning possibilities wallpaper. Ranging from animals to botanicals, wallpaper can enhance any nature-inspired idea for the bathroom with a plethora of styles and schemes to complement. Making for an impressive backdrop to our Gold washstands, explore how wallpaper enhances this decadent double wash space. Finished with Claremont taps and towel rings in Gold, here's a traditional bathroom design that can be easily scaled-down to suit any small cloakroom suite.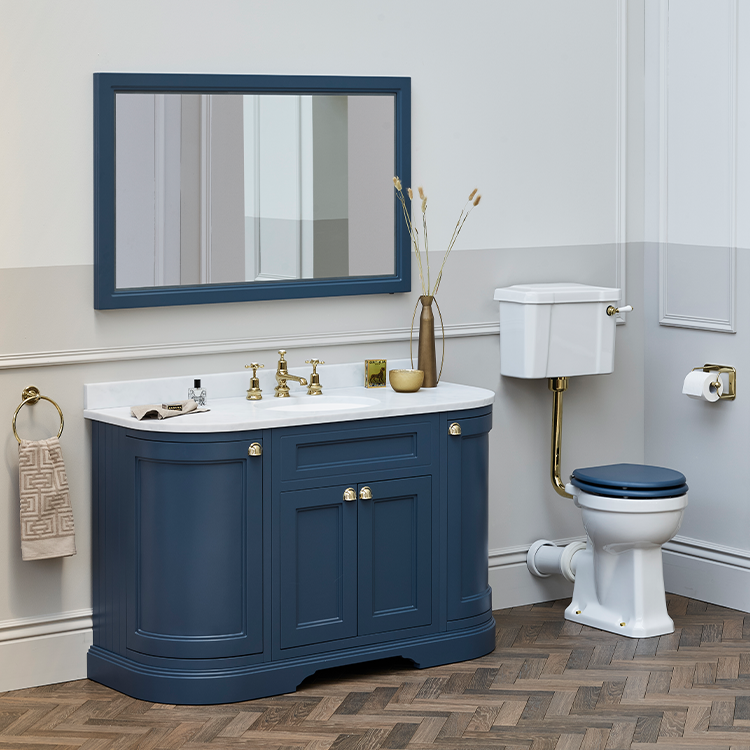 4. Statement Blues for Calming Hues
Synonymous with stunning bodies of water, the colour blue welcomes everyday escapism to the traditional bathroom. Inspiring calmness, composure and thought collection, blue ensures an elegant bathroom idea that prompts undeniable relaxation from the moment you step inside. A picture of perfect harmony, this classic bathroom unites our Blue furniture unit, mirror and toilet seat with lustrous Gold brassware for a traditional bathroom design adorned with an obvious nod towards nature.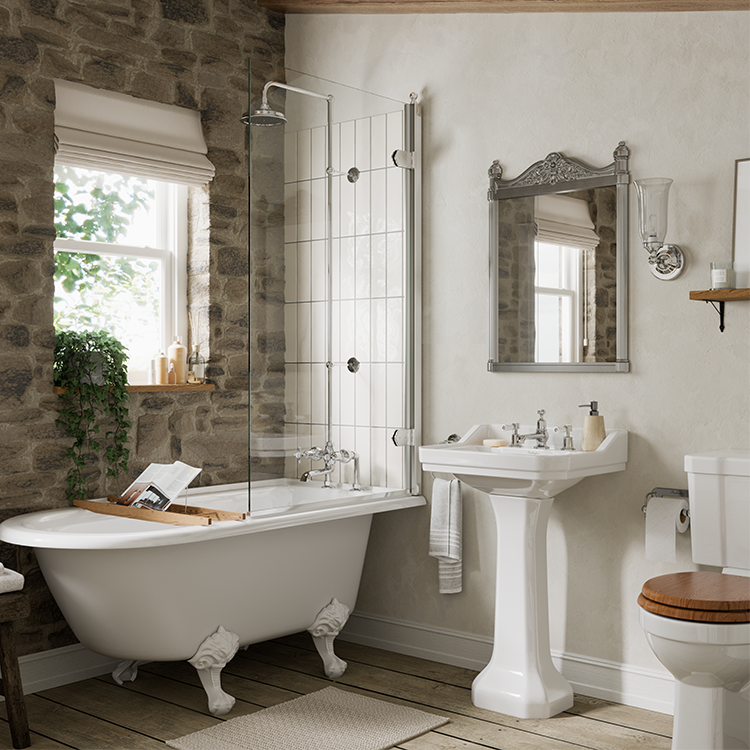 5. Expressive Elements
From rustic to farmhouse, interior ideas for the bathroom commonly draw on unrefined beauty to enhance the setting. Consider period beams, exposed brick and other characteristics for a traditional bathroom that flourishes from the warmth of more natural touches. Balanced with the understated elegance of traditional bathroom products, including Edwardian basin, Hampton showering bath, close coupled toilet and Chrome brassware, here's a full bathroom solution that's ready to be admired for years to come.