28 January 2022
Abi Hardiman
Choosing Your Traditional Freestanding Vanity Unit
Dreaming of storage for your traditional bathroom? Discover our range of freestanding vanity units to complement your classic bathroom design. Start by selecting your ideal size and whittle your selection down by style and colour to uncover your perfect design.
Before you get started, have you seen the benefits of our freestanding vanity units?
Find the Right Size for Your Home...
Please use this section to read about our furniture sizes. Within this guide, we will cover cloakroom, 650mm, 750mm, 980mm, 1300mm and 1340mm options for a seamless fit in any timeless bathroom or cloakroom. Please scroll to the sections that are applicable to you.
Cloakroom Freestanding Vanity Units
Specially designed for cloakrooms and small traditional bathrooms alike, our Cloakroom freestanding vanity units promise extravagance for any compact and classic bathroom design. Compatible with corresponding Edwardian or Classic basins, our Cloakroom freestanding vanity units unite modern-day function with a look that's true to tradition for designs to suit every space. Please view our cloakroom options below.
650 and 750 Freestanding Vanity Units
The next size up from our Cloakroom units, our 650 and 750 freestanding vanity units make the perfect storage solution for slightly larger small traditional bathrooms. Harnessing a similar traditional aesthetic to accentuate timeless bathroom design, our 650 and 750 units can be selected with either doors or drawers for a solution to suit your lifestyle. Capture a preferred look with either a Classic Basin with Standard Waste, Classic Basin with Invisible Waste or integrated basin with a Minerva® worktop.
First, discover your preferred storage type...
Secondly, choose your favourite basin design...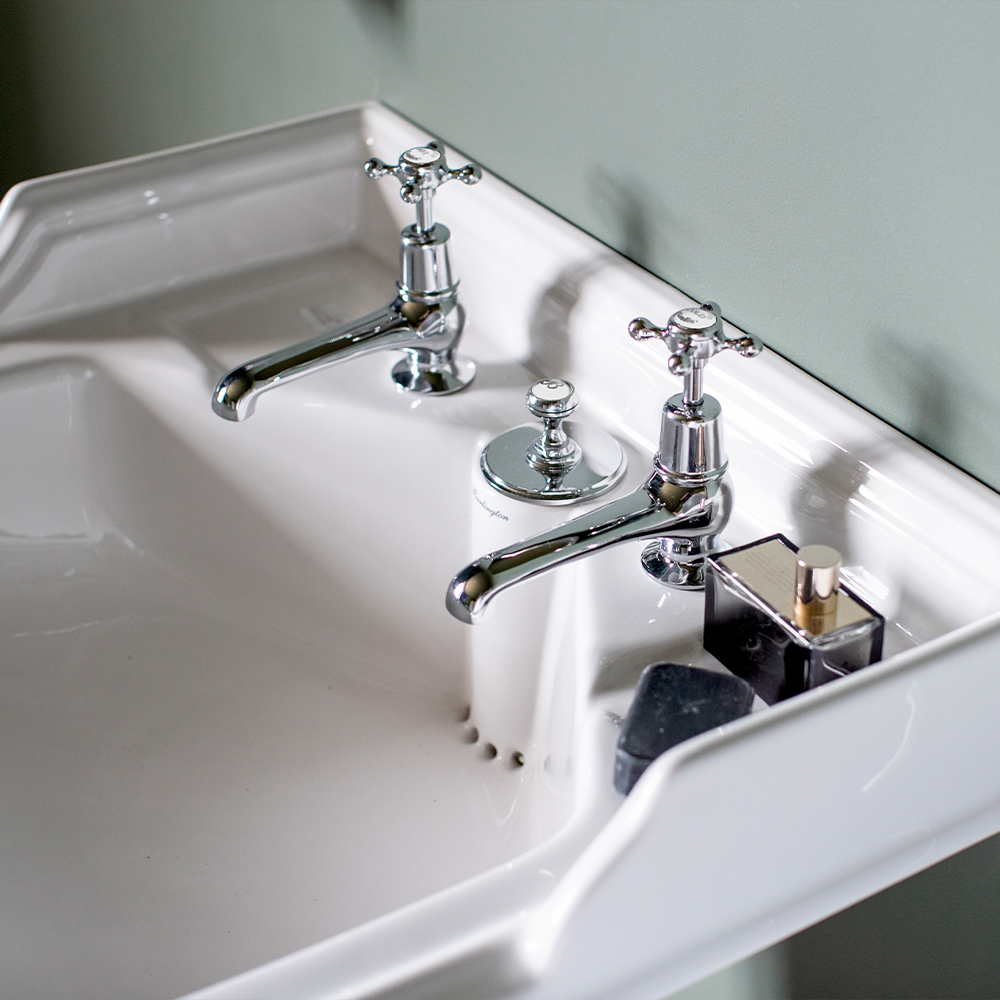 Classic 650 Basin (Invisible Waste)
For beautiful and uninterrupted ceramics, Classic Basin with Invisible Waste does not require a plug or external waste - simply pull the lever located between the two tap holes to drain water. Classic Basin with Invisible Waste is available in a two tap hole configuration only.
Chosen an integrated basin option? Discover your Minerva® worktop...
Opt for White, Carrara White or Black Granite Minerva® worktop finish as standard, or explore our full range of Minerva® worktop finishes below. Please note that alternative worktop finishes are made to order and will have longer custom delivery times.
980 Freestanding Vanity Units
Fitting snugly in the corner of your timeless bathroom, our 980 freestanding vanity units provide a stylish and space-saving solution whilst still ensuring enough storage to meet the needs of the whole family. Featuring left and right configurations for a seamless fit in any corner, our 980 freestanding vanity units are complete with an integrated vanity bowl and a choice of Minerva® worktop for a design to suit any timeless bathroom.
What's your corner configuration?
1300 Freestanding Vanity Units
Looking for the perfect freestanding vanity unit for your master bathroom? Featuring a double basin design perfect for couples and shared bathrooms, our 1300 freestanding vanity unit promises an impressive storage space with sophisticated design for a classic bathroom design that combines form and function. All of our 1300 freestanding vanity units feature a Minerva® worktop and come with the option of doors or drawers.
Available in two configurations...
1340 Freestanding Vanity Units
Defined by soft curves and classic lines for traditional design, our 1340 freestanding vanity unit is perfect for any larger timeless bathroom. Finished with a large Minerva® worktop, single integrated basin and substantial internal storage space, this traditional bathroom vanity ensures incredible practicality to suit any classic bathroom design. Select your unit with either doors or doors and drawers to achieve your preferred look.
Available in two configurations...
Have a question or require more information? To get in touch, call +44 1322 473222 or email info@bathroombrands.com.
You May Also Like...