Traditional Bathroom Design Ideas
Traditional Bathroom Design Ideas
Incorporating traditional style into bathroom interiors is the perfect way of bringing a classical aesthetic into the home. The timeless appeal of truly traditional design means that the décor will remain effortlessly beautiful for years to come, especially when paired with contemporary touches. When we think of classic bathroom design, we often picture a simple scheme with white sanitaryware in a pared-back palette. However, incorporating contemporary details into a classic scheme is a great way to propel your traditional bathroom into the 21st century. Choosing a colour scheme that matches a traditional bathroom may seem difficult at first, but there are a huge range of colours, finishes and palettes that can be incorporated into a traditional setting to create a lasting impression. To help you find your ideal traditional bathroom style, we have put together a selection of our favourite bathroom design ideas, all of which will work perfectly in today's traditional homes.
Traditional Black & White
Black and white is a classic colour combination that can create a striking effect within bathroom interiors. Arguably the most iconic traditional bathroom style, the success of this look comes down to where you inject the hints of black. Be sure to balance your lights and darks to suit your space - too much white and you'll lose the beautiful effect of the contrast, too much black and the space will be overpowered. It's also very important to consider things such as natural or artificial light and how this will influence the end result of your colour scheme. From patterned encaustic tiles, to painted walls or dramatically dark doors, there are a number of ways to safely integrate black into your scheme. Paired with the crisp, clean white of your ceramics, the classic monochrome look is certain to both make a statement and stand the test of time.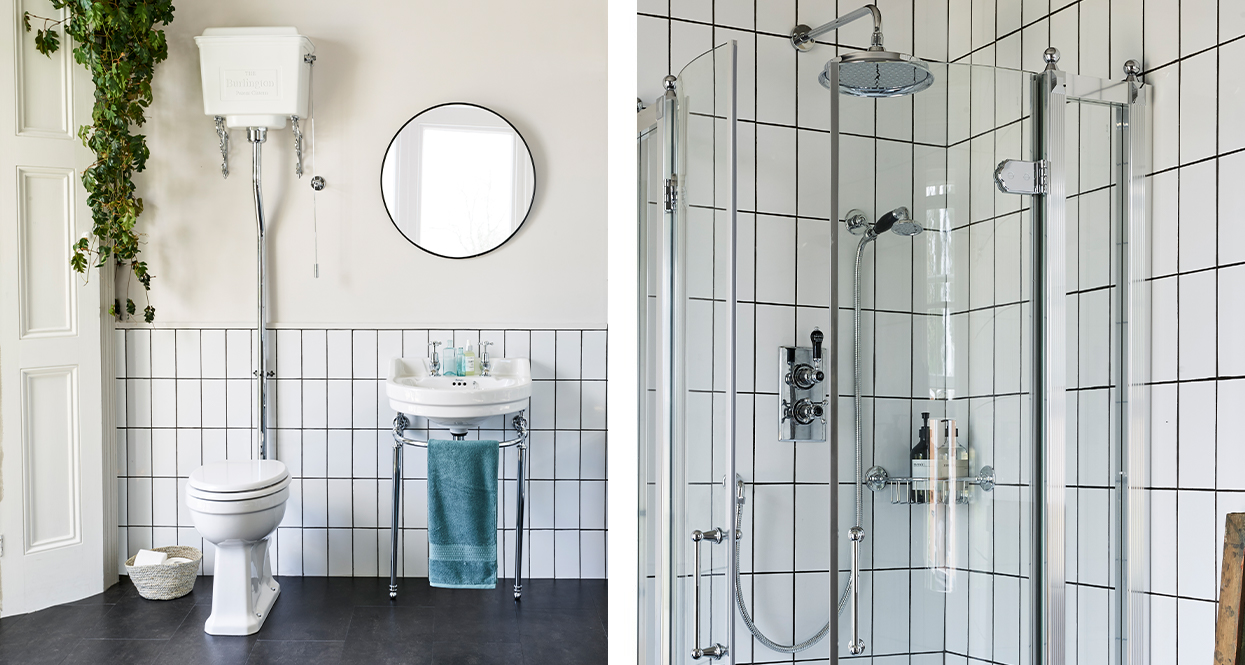 ​
Classic Country
When it comes to decorating your home with a traditional country feel, the possibilities are endless. Within certain settings, achieving this look is all about using the correct materials and textures to bring some outdoor rusticity into the home. Whether it's through statement finishes such as weathered floorboards and pastel-toned walls or with smaller details such as classic pedestal basins and understated WCs, there is a world of different ways to achieve a traditional country style bathroom. A common classic choice is to opt for ceramics that feature wood detailing and finishes. Whether it's on the handles of your brassware or the seat of your WC, it can be easy to introduce this country warmth into your bathroom. Our Walnut finish, available across our brassware and accessories collections, is the perfect choice for a classic country look, whether you're opting for a cohesive scheme throughout or a subtle hint of traditional style, the Walnut trim promises to add a timeless touch to your bathroom. You can also coordinate these details with classic lighting fixtures, white wood panelling and traditional finishes to accentuate each piece and pull together a sought-after classic country scheme.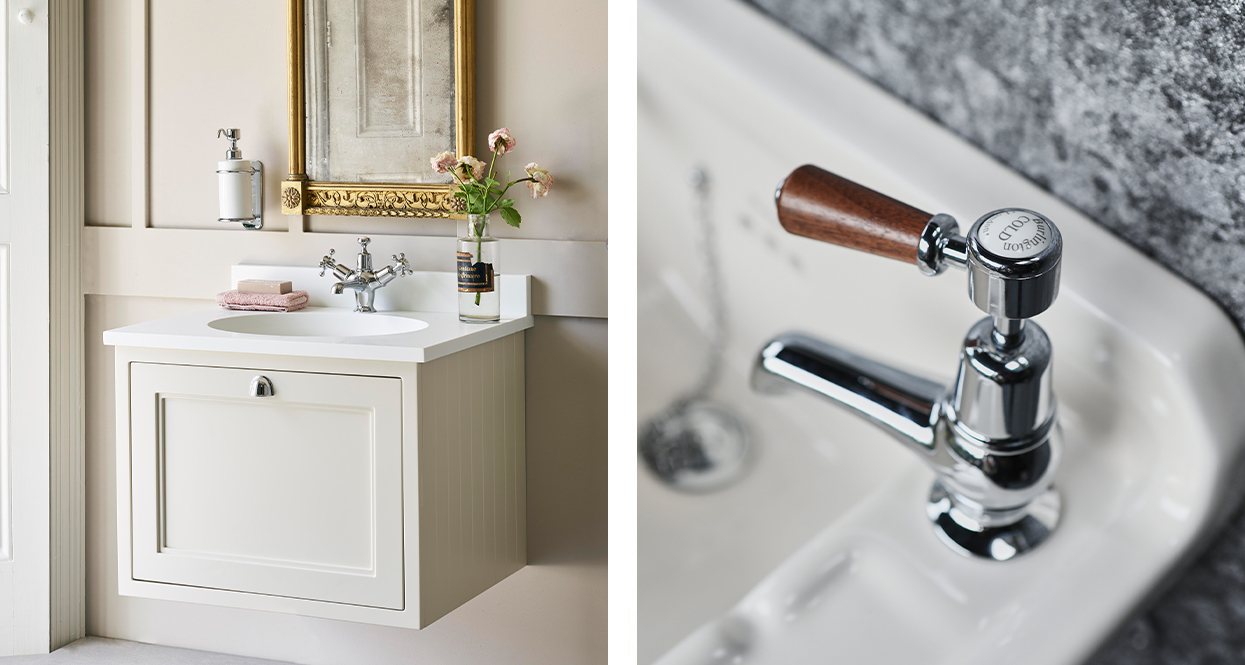 Marble & Colour
Marble has been a bathroom staple for centuries and is often associated with luxury settings. Perfect for those looking to achieve a timeless appeal, opting for a white veined marble or marble-effect surface, whether on floors, walls or countertops, can introduce a palatial feel to a traditional bathroom scheme. Our Minerva worktops are the perfect option for this aesthetic, available in White, Black Granite and Carrara White, you'll be able to tailor any furniture design from Burlington with a worktop to suit. To add a contemporary touch to this aesthetic, team our Carrara White marble-effect surfaces with a bold accent colour such as a cool turquoise, or if you're looking for a slightly more rural feel, combine with soft greens, classic accessories and traditional brassware, for a bathroom that exudes luxurious traditional style with a nod to country influences.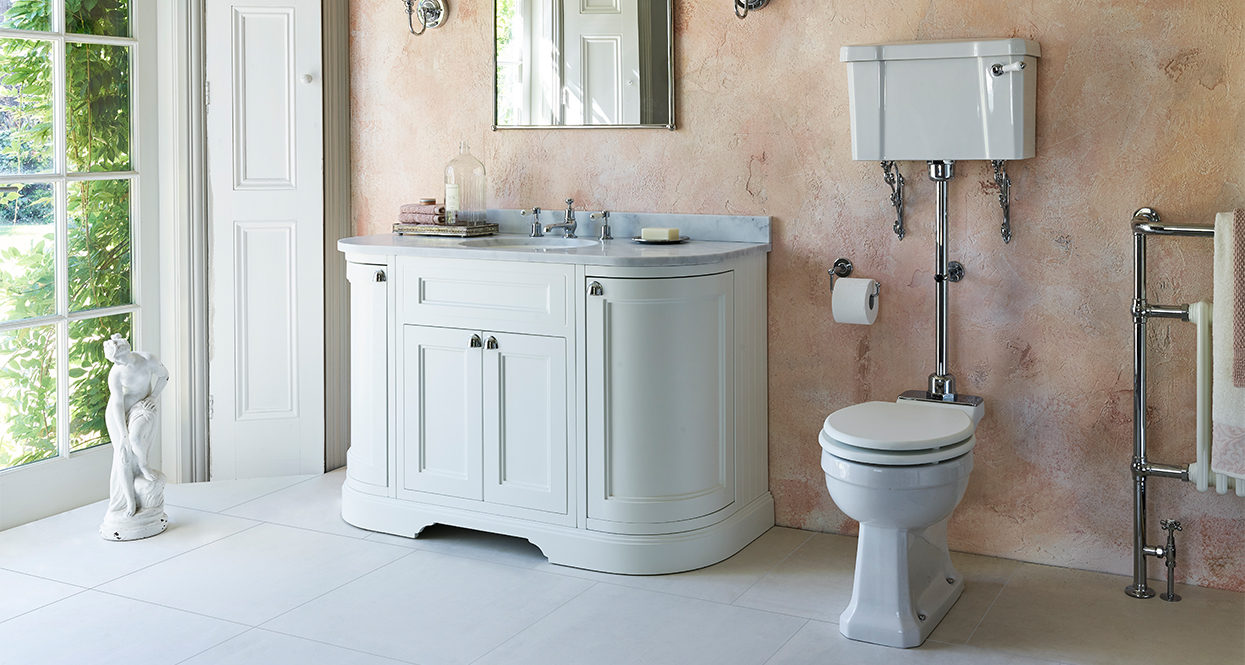 Related products